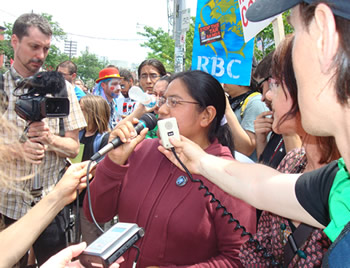 Whereas a stable financial system is essential for achieving our goals of social justice and care for the Earth, the current international system remains fragile and crisis-prone. KAIROS research and analysis on the global financial crisis focuses on both its origins and the prospects for a new, more equitable financial architecture. KAIROS views issues of global finance from the perspective of the peoples and ecosystems that suffer most from its crises and inequities. While bodies like the International Monetary Fund, the World Bank and the new Group of Twenty (G20) failed to take decisive action in the wake of the most recent crisis, there are also many signs of hope.

KAIROS has documented how the UN Commission of Experts on Reforms of the International Monetary and Financial System has placed on the agenda some concrete proposals for a fundamental restructuring. Most recently we have found renewed interest in using Financial Transaction Taxes (FTTs), also popularly known as the Robin Hood Tax, to raise revenues to fight poverty and finance climate change adaptation and mitigation measures in developing countries.
Resources: KAIROS Policy Briefing Papers
KAIROS Policy Briefing Paper #27: Can Quantitative Easing Fund Green Jobs? (December 2010) describes a controversial monetary policy tool recently employed by the US Federal Reserve Board to create money out of nothing. The paper suggests that using new liquidity to purchase government bonds from private financial firms has dubious benefits. However, quantitative easing can serve a public purpose if it is used to fund the creation of jobs in clean, renewable energy projects.
KAIROS Policy Briefing Paper #25: G20 Surrenders to the Money Traders (July 2010) analyzes how the G20 summit in Toronto steered away from needed economic stimulus and towards harmful austerity. While the G20 as a group did not endorse measures to raise revenues through taxing financial transactions, bank profits or money traders' remuneration, some of its members who belong to the Leading Group on Innovative Financing for Development have endorsed the implementation of a modest tax on currency trading that would raise US$25-34 billion a year for a Global Solidarity Fund.
KAIROS Policy Briefing Paper #24: An Idea Whose Time Has Come: Adopt a Financial Transactions Tax (April 2010) recounts how the third G20 Summit in Pittsburgh in 2009 started a debate on how financial transaction taxes might be used to pay some of the costs of government bailouts and raise money to fight poverty and climate change.
KAIROS Policy Briefing Paper #19: Financial Crisis An Opportunity for a New Global Order (November 2009) explores the causes of the financial crisis and the prospects for a new financial order.
KAIROS Policy Briefing Paper #17: G20 Rehabilitates IMF, Marginalizes U (April 2009) analyzes the first two meetings of G20 leaders in Washington in 2008 and in London in 2009 which reinforced the old order and ignored more progressive proposals under discussion within the United Nations.
KAIROS Policy Briefing Paper #16: What Kind of a "New" Bretton Woods will Emerge from the Crisis? (February 2009) chronicles calls for a "New Bretton Woods" conference that would fundamentally redesign the global financial system.

Resources: Ecumenical Documents & News Articles
Statement on just finance and the economy of life by World Council of Churches' Advisory Group on Economic Matters.

Justice Not Greed is an anthology of articles by Christian economists, theologians, ethicists, and sociologists dealing with recent failures of the world's financial structures. KAIROS Global Economic Justice Coordinator John Dillon has contributed a chapter to this book.

The Accra Confession is an important ecumenical document by the World Alliance of Reformed Churches that establishes economic injustice and ecological justice as matters of Christian faith.
60 States to lobby U.N. for currency transaction tax

Several countries issue declaration supporting a tax on financial transactions

G-20: Take Action on Financial Transaction Taxes

---
GLOBAL FINANCE NEWS