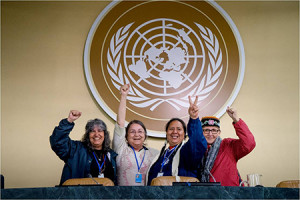 KAIROS is committed to the full equality and equity of women, men, girls and boys in diverse identities, roles and spheres of their life. Gender justice is a critical overarching goal in all KAIROS' work and is seen as an essential element in the pursuit of inclusivity, democratic development, peace, and respect for human rights and the environment.
Current priorities for KAIROS include our Women of Courage program, work that is rooted in and shaped by the wisdom and experience of KAIROS` long-standing partnerships with Canadian and international women's organizations, networks, and movements for peace-building, human rights, and ecological justice.  Women of Courage is rooted in the understanding that while women around the world face many injustices, women are also key catalysts and agents for change when they create and exercise leadership in human rights and peace building, processes often dominated by men's voices and experiences. Women are key actors in the struggle for ecological justice, organizing their communities to address resource extraction and climate change.  KAIROS Women of Courage program brings women together from different human rights contexts—conflict, Indigenous, and migrant—for shared analysis, learning, strategizing and social action.
As KAIROS further integrates work for human rights and ecological justice, which are becoming ever more interlinked, the Women of Courage Program has two primary focus areas: Women, Peace, and Security and Gendered Impacts of Resource Extraction.
Take Action!
Receive timely updates and calls to action on KAIROS' Gender Justice and Women of Courage advocacy initiatives. Sign up and tick Gender Justice under I am interested in.
Donate to Women of Courage: Women, Peace and Security. Support the program or specific partners. Your choice!
Questions? Ideas? Contact the Partnerships Manager.