Press Release: Jennifer Henry, KAIROS Canada's Executive Director, will join faith leaders, politicians and environmentalists on March 5 for the 365 Rolling Fast for the Climate. The fast began on December 1 at the United Nations climate conference in Lima, Peru, and will end on November 30, the first day of the climate conference in Paris, France.
Willard Metzger, a Mennonite, reminds us that God is part of a preserving covenant with all creation.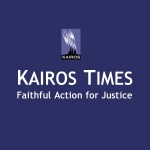 Click here to view our monthly newsletter with up to date information about our work.
Heather MCance of The Anglican Church of Canada suggests that we may need to reexamine our expectations of "The Day of the Lord".
KAIROS announce the launch of our Guatemalan partner CEIBA's report on its unique and inspiring experience with community consultations on Free, Prior, and Informed Consent (FPIC). You can read and download the resource here.
Marianna Harris of the United Church of Canada reflects on how even stones cry out for justice.
Anne Morris, an Anglican, lays out how the economy where God reigns in justice and peace is Enough for All.