Rev. Desmond Jagger-Parsons, BA LLB MDiv, is the Head of the Philippine Learning Tour, a delegation organized by KAIROS: Canadian Ecumenical Justice Initiatives, with representatives from KAIROS member churches, CUPE, MiningWatch Canada and Indigenous people in Canada.  Rev. Jagger-Parsons is also the Chair of the Board of KAIROS and a United Church minister in the […]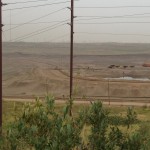 As the People's Climate March on September 21 draws closer, we are mindful of how our use and production of energy effects the earth and all its peoples. Greg Veltman was one of two young adults supported by KAIROS to attend the Anglican Justice Camp in Alberta this summer, and to join the "Faith in the Oil/Tar Sands Developments: Excavating for Deeper Narratives" immersion experience. This is reflection about the experience.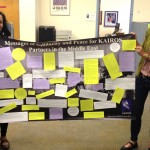 "In this moment, we must all don the robe of humanity. It is a time to stand together as Canadians, Palestinians, Arabs, Muslims, Jews, Israelis and Christians as one soul. We must show that none is ignored or considered unworthy of a secure and prosperous life."  Dr. Izzeldin Abuelaish, Palestinian physician and the author of […]
KAIROS: Canadian Ecumenical Justice Initiatives has office space available for rent. 4 modern cubicles with desk, filing, and storage space are available for occupancy. One office is also available.
Brian Wilker-Frey explains that it's not enough to hold up the cross, say thank you Jesus, and carry on with the worship service.
Inspired by a passage from Romans, Mark Hathaway tell us that rather than working for change based on what we should not do, or even out of guilt or fear, work for the Great Turning that will be sustainable and fruitful if it is impelled by a deep sense of love and connection with the entire Earth community.
Rick Garland of Student Christian Movement of Canada says his ownership and acceptance of a life of Christian ministry and activism began when he was able to say "I AM WHO I AM".