International Women's Day is an opportunity to celebrate the amazing women in our lives, including Indigenous women in Canada and around the world who are defending the rights of their communities and the environment and helping us to understand the gendered impacts of mining. Click the link to read more from Rachel Warden's blog on rabble.ca
Ottawa Schedule (updated on March 27, 2015) Friday, May 29 at Carleton University Late Afternoon: KAIROS Gathering Registration Evening: KAIROS Gathering opens with a plenary on "Recognition and Reconciliation" Saturday, May 30 at Carleton University 9am-5pm: KAIROS Gathering continues with a plenary on "Decolonization" followed by afternoon workshops 5:30pm:  Holy Mass organized by the Oblates […]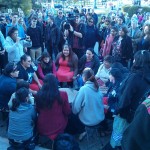 Solidarity. Integrity. Respect. Humility. Lament. Hope.
*March 24 - new video added!* The First Nations Child and Family Caring Society and the Assembly of First Nations have filed a human rights complaint against the Government of Canada regarding child welfare services for First Nations children and have launched a campaign to raise awareness about this case.
As we mark Palm and Passion Sunday Lauren Hodgson of the United Church of Canada tells us how we need to be both brave in our struggle for justice and tender with ourselves as we speak truth to power.
George C. George, student at Emmanuel College, tells us that we're to not be "ecological exiles", but embrace the abundance of life that is reconciled with God's creation.
Maylanne Maybee of the Anglican Church of Canada tell us that the sign of the cross lifted up may bring healing and life. Or maybe it won't be the cross at all. Rather, it will be through words or touches of comfort, courageous examples of resistance, or moments of silence and prayer in the wilderness, with others, that we will find healing and life.