In its message to commemorate International Migrants Day, KAIROS' Dignity and Rights Circle applauds recent changes to the Temporary Foreign Workers Program but stresses that it still has serious flaws that undermine workers' rights.
View our 2014 Christmas message, in which Executive Director Jennifer Henry reflects on faithful acts of turning the world upside down, and gives thanks for our partners in this work here in Canada and around the world.
KAIROS National Intergenerational Gathering and TRC Closing Events, May 28-June 3, 2015.
KAIROS colleague Judith Marshall shares experiences from a meeting of social movements with Pope Francis.
In recognition of International Human Rights Day 2014, KAIROS co-sponsored Mining and Human Rights: building networks of resistance, an afternoon of workshops and presentations on the struggle of communities to defend their land from the impacts of resource extraction.
From beside the Separation wall in Bethlehem, Paul Gehrs reflects on determination, persistence, and the ongoing struggle for a just peace in Palestine and Israel.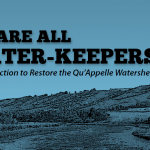 The KAIROS group in Fort Qu'Appelle, Saskatchewan has been looking at its watershed these past few years, and has released this report looking at the threats posed to it. Agri-business, the commodification of water, urban water demands and the use of water all pose threats to this highly stressed watershed.