On March 8 – International Women's Day – KAIROS, our members and our global partners will recognize and celebrate the incredible contribution that women make to our movements for social and ecological justice. From Colombia to Congo, from the Philippines to Canada, the Women of Courage Program of KAIROS has forged new connections between women human rights defenders and supported women in their struggles to defend rights and the environment. Here are some suggestions on what you can do this International Women's Day to support the work of KAIROS and our partners.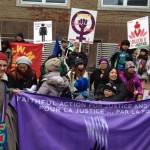 My grief in reading "Conservatives reject inquiry for murdered, missing aboriginal women", Saturday, March 8, 2014, was magnified by the fact it appeared on International Women's Day.  On this day, when women around the world renew their call for "bread and roses, too," the call from Indigenous women and their allies for a national inquiry into [...]
Rachel Warden, gender justice coordinator at KAIROS, draws the relationship between the Prospectors and Developers Association of Canada (PDAC) Convention in Toronto, International Women's Day, and violence against women in this article published in Toronto's NOW magazine.
KAIROS, BC Synod of the Evangelical Lutheran Church in Canada, and others are co-sponsoring a six week study on Caring for All Creation. Find out how you can participate in person in Victoria and Vancouver, or online from anywhere!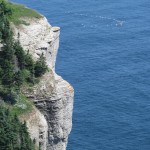 "Justice Murray Sinclair states, 'Reconciliation is about forging and maintaining respectful relationships. There are no shortcuts.' As finishing touches are underway for the Truth and Reconciliation Commission's seventh and final National Event in Edmonton, on March 27-30, 2014 (www.trc.ca), I am reflecting on the theological wisdom of such TRC events…."
Marcie Gibson offers a timely reflection this week commenting on both the TRC and this week's Gospel reading. She is a young diaconal minister, in ministry with Kahnawake United Church on Kahnawake Mohawk Territory, near Montréal, Québec, has been involved in various social justice concerns over the years, and attended the April 2013 TRC event in Montréal as a volunteer.
The KAIROS "Women of Courage" delegation to DRC reunited in Ottawa in December 2013 to brief politicians on the urgent situation in eastern Congo and what Canada can do to help build peace and prosperity. Read more about their recommendations.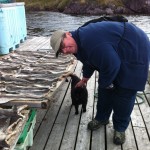 Whether it's overfishing or the environmental and human rights impacts of resource extraction, as watershed disciples we are sometimes called to make holy trouble. In this sermon at Toronto's Trinity St. Paul's United Church, KAIROS member relations and campaigns coordinator Sara Stratton explores a new model for faith- and place-based social justice work.