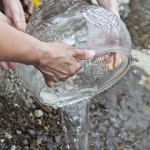 Anglican priest, Laura Marie Piotrowicz, reflects on the celebration of Holy Week just passed: As we, the church, continue to journey through the Easter season, we carry with us the importance and significance of water. We are challenged to examine our use of water in every day life, seeing it not as something that just comes from a tap but a component of our sacramental and covenantal relationship with God, with God's creation, with God's people.
According to KARAPATAN, the national alliance of human rights organizations in the Philippines, 169 men and women had been victims of extrajudicial killings under the current government of President  Benigno Simeon Aquino III (July 2010 to December 2013.)   From January to March this year, 19 people were killed — 9 of these in March […]
Sunuc was invited by the Commissioners to attend the National TRC National Event in Edmonton. Work and family commitments in Guatemala prevented her from attending, but she sent this video message. In her message, Naty talks about the TRC's profound impact on her, and about her covenant as an Honorary Witness to continue to work for truth, reconciliation and justice for her Indigenous brothers and sisters in Canada. She stresses that in order to realize genuine justice and reconciliation, Canada and Canadians must address the ongoing violation of Indigenous peoples' human rights, especially those linked to resource extraction. Naty's video message is part of the official records of the TRC.
The practice of hydraulic fracturing (or fracking) for shale gas and oil raises significant ecological and Indigenous rights issues. On 8 April 2014, KAIROS released a discussion paper inviting our member churches to consider whether KAIROS should endorse a moratorium on fracking. The paper documents several ecological issues, including the connection between fracking and water contamination, earthquakes and the release of methane, a very potent greenhouse gas. It also describes how Indigenous peoples in North and South America are at the forefront of resistance to fracking.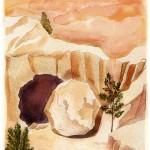 This week's Spirited Reflection is by KAIROS Executive Director, Jennifer Henry. The images of death in the Scriptures are striking, but so are the signs of hope: transformation is God's signature.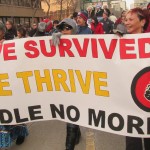 In their final reflection from the TRC National Event in Edmonton, KAIROS' young adult delegates wonder if we are ready to "overcome fear and guilt, and allow ourselves to be transformed by the power of authentic relationship."
Margaret Evans will begin her term representing the Presbyterian Church in Canada on the Dignity and Rights Circle this spring. In this week's Spirited Reflection she offers thoughts on the lectionary text from Ezekiel. Are we too being called to breathe new life into dry bones?