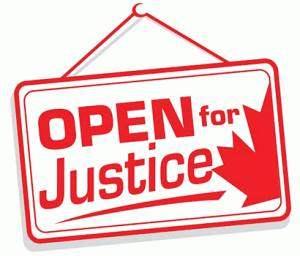 On Monday, April 8, 2019, the federal government appointed the Canadian Ombudsperson for Responsible Business Enterprise (CORE), but failed to create an independent office with real powers to investigate abuses and redress harms caused by Canadian companies operating abroad, essentially breaking a promise made 15 months prior The Office of CORE is intended to hold Canadian mining companies and their subsidiaries, as well as oil and gas and garment sectors with Canadian ties, accountable for human rights violations at their overseas operations.
An ombudsperson with a narrow mandate, no autonomy, and inaccessibility to the judicial system would be a broken promise to Canadian citizens, Indigenous peoples, human rights defenders, workers, and communities across the globe who are living the effects of corporate abuse. This is unacceptable.
It's not over yet!
Please call your MP today. Urge your MP to call the Prime Minister and ask that he deliver on the federal government's promise to create, staff, and fund an independent office of the CORE with the proper investigative powers.
Please help us take action by participating in the #Open4Justice Campaign!
1.Contact your Member of Parliament and urge them to contact the Prime Minister's Office: Find your MP's contact info.
Ask them to take a stand and do the following:
Immediately call the Prime Minister's Office and ask them to tell the government to keep its promise; to give the ombudsperson the power to compel documents and testimony; to give the ombudsperson full independence; and to do it now. It's been a full year since CORE was announced! See a sample of the script.

Publicly support the immediate establishment of an effective ombudsperson.
Remind them that an effective ombudsperson is:
Independent;

Has the tools and mandate to independently investigate, including the power to compel documents and testimony under oath from Canadian companies; AND

Reports publicly on its findings and recommendations, including for remedy, harm prevention, and reforms.
Send a copy of your letter to the Minister of Trade: Jim.Carr@parl.gc.ca.
2. After you contact your Member of Parliament, post to social media!
Tweet or post on Facebook: It's been one year since the long-awaited announcement, but where is the Ombudsperson? Sample message:
One year since #Canada made a groundbreaking announcement for #corporateaccountability and no clear signs this vital #ombuds office will open anytime soon. @JustinTrudeau: actions speak louder than words. Show global leadership & fulfill your promise.
Share messages on social media using the hashtags: #Open4Justice, #Ombuds, #Power2Investigate, and #WhereistheOmbuds
3. Write a letter to the editor
If you see an article about the ombudsperson or corporate accountability in your local newspaper, write a letter to the editor expressing your support for the creation of a credible, effective, and independent ombudsperson's office with strong investigative powers. This is essential if the ombudsperson is to be able to prevent and redress human rights abuses by Canadian companies overseas. To help you, this is a guide to write effective letters to the editor.
Background
Nearly a decade has passed since industry and civil society leaders recommended the Canadian government create an office such as CORE. More than 600,000 Canadians and hundreds of civil society organizations from Canada and abroad have since added their voice to the call for an ombudsperson.
KAIROS members across the country have called on the Canadian government to protect the dignity of human life and the sacredness of creation by establishing an independent human rights ombudsperson with the power to hold Canadian mining companies responsible for their overseas operations. They have met with, called, and written to their members of Parliament and the Minister of Trade. They do this in solidarity with and in response to KAIROS' global partners who have also called for an independent ombudsperson.
With projects in over 100 countries, Canada serves as the headquarters to half of the world's mining companies. These companies are ostensibly representatives of Canada abroad. And yet, Canadian companies with operations abroad do not always abide by national or international human rights, environmental, or criminal justice laws. Affected communities advocate for stronger laws in their own countries, but enforcement is often weak and violations occur with impunity (see "Talk is Not Enough" on the Canadian Network for Corporate Accountability (CNCA) website).This is all the more pressing because KAIROS partners in the Global South report human rights abuses, environmental damage, and the criminalization of those who defend these rights, particularly Indigenous communities, labour organizations, and women.
KAIROS partners substantiate: In many regions, extractive projects are linked to a rise in conflict and human rights violations. These impacts include violent clashes between local communities and mining personnel, particularly security; water contamination; environmental degradation; repression and criminalization of community leaders; and the militarization of mining regions.
As over forty women, including KAIROS partners, from Canada and across the globe made clear at an international gathering held in Montreal in April 2018, women typically feel the negative social and environmental impacts of mining before and more acutely than men. They are often subjected to increased physical and sexual violence and health problems due to contaminated water sources used for domestic work, such as washing and cooking. Their lives are on the line when they oppose extractive companies or the exploitation of their territories. Women are often subjected to discrimination, isolation, persecution, attack, and criminalization for speaking out and defending their land and community. At the KAIROS Symposium on Gendered Impacts of Resource Extraction in Vancouver in 2013, Gloria Chicaiza of Acción Ecológica, one of KAIROS' global partners, shared:
"We believe that mining projects on our land are being imposed literally with blood and fire. The abuse is not just against the land. These two things are linked for us: the exploitation of land and the exploitation of women's bodies."
Corporate accountability in the extractive sector is a gender justice issue.
Until now, the Canadian government has addressed reports of extractive sector violations with two mechanisms: the Corporate Social Responsibility (CSR) Counsellor and Canada's Organization for Economic Cooperation and Development's National Contact Point (OECD NCP). With both these mechanisms, participation by extractive sector companies is voluntary and complaints are never made public. Such lack of corporate accountability speaks to the ineffectiveness of extant mechanisms, given that these have not addressed the problems that harm communities living in close proximity to mining operations.
An independent CORE requires the power to independently investigate allegations concerning the overseas operations of Canadian companies, issue its findings to the public, and make recommendations for redress regarding corporate eligibility for government services and with respect to policy and law reform.
KAIROS is a member of the Canadian Network on Corporate Accountability (CNCA). According to the CNCA's draft model legislation, an effective Ombudsperson will have the following traits:
Independence, integrity, and fairness;

Empowered to conduct effective investigations;

Required to report publicly;

Publicly reports recommendations for remedy; and

Engages in monitoring and follow-up.
See the

infographic

"Criteria for an Effective Ombudsperson" on the CNCA's website.
For more information on KAIROS' program on the gendered impacts of resource extraction, visit: https://www.kairoscanada.org/what-we-do/gender-justice/gendered-impacts-of-resource-extraction-overview.
ADDITIONAL RESOURCES
For more information, contact:
Gabriela Jimenez, gjimenez@kairoscanada.org