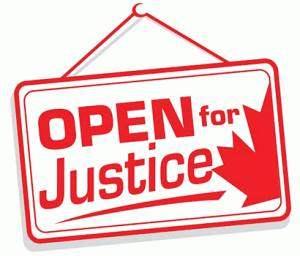 May is a month of action for mining justice!
Canada, as home to the majority of the world's mining and mineral exploration companies, has a duty to be a leader in corporate accountability in the extractive sector. Sadly, Canadian law has not kept pace with the globalization of the mining industry. Today Canadian mining companies operate in over 100 countries around the world. Yet when people in other countries are harmed by Canadian corporate activity, they cannot access justice in Canada.
KAIROS is participating in a national campaign to make Canada "Open for Justice." Together with our partners in the Canadian Network on Corporate Accountability (CNCA), we are inviting you to join our call for two new accountability mechanisms in Canada:
A human rights Ombudsperson for the international extractive sector, with the power to independently investigate complaints and make recommendations to corporations and the Government of Canada; AND

Facilitating access to Canadian courts for people who have been seriously harmed by the international operations of Canadian companies.
More than 100,000 Canadians wrote to their local Members of Parliament before the last federal election asking for Canada to be "Open for Justice."  Heeding this call, four out of the five major political parties committed to creating an extractive sector Ombudsperson, including the Liberal Party that formed government in October 2015.
Since the election, Open for Justice campaigners have been meeting with MPs and senior government officials to outline how the Liberal government can follow through on its election promise and create an Ombudsperson office.  International Trade Minister François-Philippe Champagne is considering changes to the government's approach to corporate social responsibility and the extractive sector. TAKE ACTION NOW!
Background
Communities, workers and Indigenous peoples are struggling to defend their rights and protect watersheds and ecosystems as mining, oil and gas companies expand into more remote and ecologically sensitive places. Citizens are advocating for stronger laws in their own countries to regulate mining activities. Through our global partnerships, KAIROS supports these efforts to hold these industries accountable. However, in many cases, enforcement is weak or non-existent and violations occur with impunity. As Canadians, we also have a role to play in bringing forward real accountability measures to govern the international activities of Canadian companies.
Canadian Network on Corporate Accountability Resources