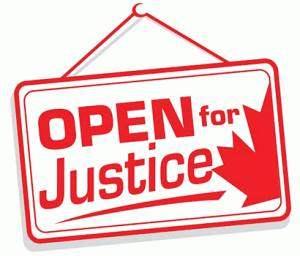 KAIROS is greatly encouraged by the Honourable Minister of International Trade's announcement on January 17, 2018 regarding the creation of a Canadian Ombudsperson for Responsible Business Enterprise.
We remain cautiously optimistic because it is still unclear if the Ombudsperson will be completely independent at all stages of the process.  To ensure that the office is effective, the Ombudsperson must be fully independent with the power to compel documents.
Please help us!
Background
For years, KAIROS members across the country have called on the Canadian government to protect the dignity of human life and the sacredness of creation by creating an independent human rights Ombudsperson with the power to hold Canadian mining companies responsible for their overseas operations. They have met with, called, and written to their members of Parliament and the Minister of Trade. They do this in solidarity with and in response to KAIROS' overseas partners who have also called for an independent Ombudsperson.
With projects in over 100 countries, Canada is home to half of the world's mining companies. Canadian companies can be viewed as representatives of Canada abroad; however, KAIROS partners in the global South report human rights abuses, environmental damage, and the criminalization of those who defend these rights, particularly Indigenous communities, women and labour organizations. Affected communities advocate for stronger laws in their own countries, but enforcement is often weak and violations occur with impunity (see "Talk is Not Enough" on the Canadian Network for Corporate Accountability (CNCA) website).
According to Carlos Zarate, a Member of Philippine Congress and Chair of its House Committee on Natural Resources, who joined the KAIROS-sponsored delegation from the Philippines last spring:
"It is very important to allow people in communities displaced by Canadian mining companies to use some mechanism in Canada to make these companies accountable. The Philippines is still a country where the so-called rule of law is only for the elite and big business. For ordinary farmers and Indigenous people the rule of law is meaningless. To make mining companies accountable it is important to create the office of an independent Ombudsperson that can investigate and file cases against big mining companies."
Nearly a decade has passed since industry and civil society leaders recommended the Canadian government create such an office. More than 600,000 Canadians and hundreds of civil society organizations from Canada and abroad have since added their voice to the call for an Ombudsperson.
In 2015, the federal Liberal Party, New Democratic Party, Green Party and Bloc Quebecois each committed to creating a human rights Ombudsperson for the extractive sector. People and organizations around the world are calling on Canada to hold our companies to account. Do your part to make Canada Open for Justice.
Canada, as home to more than half of the world's mining and mineral exploration companies, should be a leader in corporate accountability in the extractive sector. Canadian law has not kept pace with the globalization of the mining industry.
Until now, the Canadian government has addressed reports of extractive-sector violations with two mechanisms: the Corporate Social Responsibility (CSR) Counsellor, and Canada's Organization for Economic Cooperation and Development's National Contact Point (OECD NCP). With both these mechanisms, participation of the extractive-sector companies was voluntary and complaints were never made public. These mechanisms have been ineffective and have not address the problems that harm communities.
An independent human rights Ombudsperson requires the power to independently investigate allegations concerning the overseas operations of Canadian companies, issue public findings on allegations of harm, and make recommendations for redress regarding corporate eligibility for government services and with respect to policy and law reform.
KAIROS is a member of the Canadian Network on Corporate Accountability (CNCA). According to the CNCA's draft model legislation, an effective Ombudsperson will have the following traits:
Independence, integrity, and fairness
Empowered to conduct effective investigations
Required to report publicly
Publicly reports recommendations for remedy
Engages in monitoring and follow-up
See the infographic "Criteria for an Effective Ombudsperson" on the CNCA's website.
For more information, visit the CNCA website: cnca-rcrce.ca/campaigns-justice/ombudsperson/
ADDITIONAL RESOURCES
For more information, contact:
Cheryl McNamara, Communications Coordinator
cmcnamara@kairoscanada.org