WPS South-South Gathering builds solidarity for women peacebuilders
---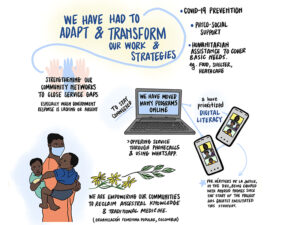 Amidst a global pandemic, KAIROS' Women of Courage partners gathered online in late November to learn from one another to help empower women in the Global South for an equitable, just and feminist recovery and transformation.
The second annual KAIROS' Women of Courage: Women, Peace and Security South-South Gathering brought together Organización Femenina Popular (OFP) (Colombia), Héritiers de la Justice (Democratic Republic of Congo), South Sudan Council of Churches – National Women's Programme (SSCC-NWP), Wi'am: Palestinian Conflict Transformation Centre (West Bank), the National Council of Churches in the Philippines (NCCP), which includes EcuVoice, and KAIROS.
KAIROS' five-year Women of Courage: Women, Peace and Security program is supported by funding from Global Affairs Canada and donations by KAIROS supporters.
The partners exchanged stories and strategies on their responses to these challenging times during a series of online meetings from November 24 to 27, including an online public event called Stories of Courage, Stories of Change. The event included thoughtful reflections on their stories from Global Affairs Canada and KAIROS partnership and rights circle and network members.
During the first day, partners spoke about their contexts and discussed common strategies to respond to the pandemic as local women-led peacebuilding organizations.
"I am so grateful for the way you have responded to this pandemic, adjusting activities, reaching out to the most vulnerable, persisting in the most difficult of new circumstances, continuing this program we share," said Jennifer Henry, KAIROS' Executive Director at the start of the Gathering.  
KAIROS' partners reported dramatic increases since March in gender-based violence and femicide, child marriages and subsequent increases in a need for their services, particularly psychosocial and humanitarian support. They also observed the economic toll the pandemic has had on women, many of whom rely on informal economies for their livelihoods.
"We noticed changes around the economic livelihood of women," said Néné Lubala Neem of Héritiers de la Justice. "Here it was mostly women who took charge for their families. And this created a great challenge because it was very hard for women to move between villages and to attend to their work, their livelihoods, through exchanges. The work of small commerce that would happen between villages was greatly impacted." 
When partners' programs including training and legal and pyschosocial services were affected by the restrictions on travel and in person gatherings that came with adherence to safety protocols, they turned to technology to improve accessibility. This presented new challenges.
"Women lack access to requiring skills for technology," said Kelly Campo of the OFP. "We've had to learn to find the spaces to connect virtually and use these spaces to acquire these skills." 
Women of Courage partners also found themselves filling needed roles in educating communities about COVID-19 protections and distributing critical supplies, such as food, to remote communities.
For example, SSCC formed a task force to complement South Sudan's National Task Force of the Ministry of Health in their work to reduce the virus' spread. SSCC representatives visited households and spoke on radio talk shows to educate the community about the virus and measures to stop its spread. They also distributed hand sanitizers and hand washing facilities.
SSCC also launched its psychosocial support service – free-of-charge – which transformed Juba's reconciliation centre into a call-in support centre.
To assist difficult-to-reach communities, partners have focused on training the trainers to lead and implement some of their programs and workshops in these areas.
"We are also networking between our beneficiaries and different stakeholders in society that can help meet some of the needs that we are unable to because of limited capacity," says Tarek Al-Zoughbi of Wi'am.  
Wi'am is broadening its partnerships to ensure that food, as well as internet, are delivered to households.
"Internet can be a determining factor between a student being able to continue their education during these times and not," said Tarek. 
"You have shown us such leadership and we are deeply grateful," said Jennifer. "I have come to think that what you are doing in your/our work with women and girls, youth and male allies, is really the tangible work of hope."
Hope and Canadian support are needed more than ever. As domestic violence has surged worldwide, so too has political violence.
"Political and civil rights violations have not stopped just because there was COVID19," says Becca Lawson of the NCCP. "Even under lockdown [the Government of the Philippines] passed a new anti-terrorism act. It's caused an intensification, a vilification or what we call a red-tagging campaign against both women and men human rights defenders." 
KAIROS and its partners mourn the losses and honour the lives of Zara Alvarez of EcuVoice, Carlota Isabel Salinas Pérez of the OFP and other human right defenders and peacebuilders who have been murdered during the pandemic.
Canada's voice and influence at the UN and with governments of countries in conflict can help end violence against women, ensure that their lives and rights are protected and increase space for women to participate in peace processes at local, national and international levels.
Indeed, Canada recently promised to support and protect the work of women peacebuilders through its network of diplomatic missions through a year-long global advocacy campaign. Canada also announced $14.9 million in new funding for women peacebuilders globally, with $5 million of that targeted at grassroots organizations.
"These announcements are welcome and a good start," says Jane Thirikwa, KAIROS' Global Partnerships Coordinator. "To help ensure the sustainability of grassroots women's organizations, KAIROS urges the Canadian government to increase its overseas development assistance contribution which is currently merely 0.28 of national wealth to reach the international standard of 0.7 while building on its contribution to women-led grassroots organizations, including support for their recovery and transformation efforts in response to the pandemic. For funding to reach these organizations it must be accessible, flexible, predictable and long-term." 
This level of support will help the government live up to its promise to help critical actors on the ground – who are often women peacebuilders – to 'build back better'.
Support the KAIROS Women of Courage: Women, Peace and Security program today! Support a lasting peace.
---