TVO's "The Agenda" – Troubles with Mining Abroad
---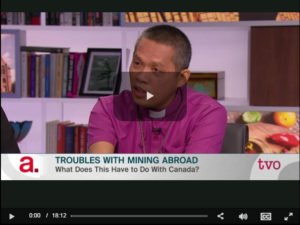 KAIROS recently supported a five-person delegation of political, faith and Indigenous leaders from the Philippines that toured across Canada from March 20 – April 9 under the banner "Our Land, Our Rights, Our Peace". The delegates spoke about human rights violations in the context of mining projects, including Canadian-owned operations, and advocated for the KAIROS/Canadian Network of Corporate Accountability (CNCA) "Open for Justice"campaign.
"Open for Justice" calls on the Government of Canada to appoint an independent extractive-sector Ombudsperson to monitor Canadian mining operations overseas, and to facilitate access to the Canadian courts for non-nationals who have been harmed by the international operation of Canadian companies.  More information on the delegation.
Towards the end of the tour, which included stops in Ottawa, Montreal, Edmonton, Calgary, Winnipeg, Toronto and Vancouver, two of the delegates, Bishop Antonio Ablon of the Iglesia Filipina Independiente church in the Diocese of Zamboanga del Sur, and Anie Bautista, National Coordinator of the Ecumenical Voice for Peace and Human Rights in the Philippines (EcuVoice), along with CNCA Coordinator Emily Dwyer, were interviewed by Steve Paikin for the TVO current affairs show "The Agenda". The 18-minute segment was part of an episode entitled "Troubles with Mining Abroad" which aired May 31, 2017.  The show has three segments:  one with mining representatives who speak favourably about the industry in Canada, another with the Philippines delegates and Emily Dwyer spotlighting the human rights and ecological violations in the Global South – specially the Philippines – and a final segment with Osgoode Hall Law School professor Shin Imai on corporate accountability abroad. Shin showcased the complexities of corporate global structures and how they help mining companies get off the hook.
TVO described the episode this way: "Mining is one of the industries that built this country. And today, Canadian companies operate resource extraction interests in more than 100 countries. But in some of those places, not everyone is rolling out the welcome mat for companies putting down roots and mine shafts. That is the case for some in the Philippines, and The Agenda examines why."
In the segment involving the KAIROS delegation, the delegates are asked about the aerial bombardments carried out by the Philippines military to pacify resistance by the Lumad Indigenous people of Mindanao impacted by the mining operations of TVI Resource Development Inc. (TVIRD), the Philippine subsidiary of Calgary based TVI Pacific, Inc. They also talk about the "Open for Justice" campaign in the context of the overseas operations of TVI Pacific Inc.