The pandemic will not hinder us from uniting as women #CSW65
---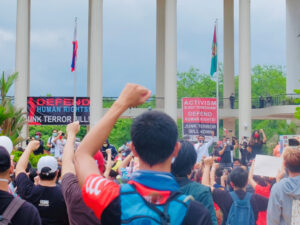 I was honored to attend the CSW65 from March 15-26, 2021 as part of the KAIROS' delegation and through the generous accommodation of ACT Alliance.  
The pandemic may have hindered women from gathering physically but, through technology, participants including here in the Philippines were able to experience New York for two weeks. Indeed, not even a pandemic can stop courageous and dauntless women from around the world in their fight for gender equality.
The multitude of forums and topics during the event compelled me to choose topics which are relevant to my country, the Philippines. As a young and aspiring human rights lawyer, topics on gender justice, human rights activism and how the pandemic has affected these advocacies interest me.
Incidentally, as we ended the CSW65 on March 26, 2021, the government of the Philippines announced another lockdown in its capital city and nearby regions. This is in response to an all-time high COVID-19 cases and the emergence of its new variants.
In the session titles "The pandemic will not stop us: Impact of COVID-19 on women peace activists in Colombia, Philippines, South Sudan & Ukraine" sponsored by the Global Network of Women Peacebuilders Inc., women peace activists from different parts of the world narrated how the pandemic has caused hardships. To name a few, there is the alarming increase in domestic violence, exclusion of women in decision-making and in COVID-related policies, slower progress of peace talks, widespread unemployment and killings of women human rights defenders.  
One of the participants in the session pointed out that in the Philippines, the government is combating the pandemic through military-based tactics rather than on medical-based solutions. More than a year since the first COVID-19 recorded case in the Philippines and with the military at the helm, we are still in the lockdown-stay-at-home mindset. Many front-liners and health care workers have already died on duty. At the same time, the county has recorded its highest number of extrajudicial killings amidst the pandemic, some perpetuated by the military.
I cannot help but remember the heartbreaking plight of Reina Mae Nasino; woman, mother, human rights worker and detainee. She was arrested in 2019 inside her office along with other activists. The police planted firearms and explosives and she was later indicted on trumped-up charges of Illegal Possession of Firearms and Explosives. She was pregnant when she was detained, yet she was not given prenatal care. The restrictions became more stringent when the lockdown was imposed in March 2020. Soon after she gave birth, the Court ordered her separation from her baby, despite the fact the baby was very sick. Her baby soon died. The violence did not stop with Nasino's case. Human rights lawyers and defenders, media workers and activists continue to be arrested on trumped-up charges, in an effort to silence dissent and discourse. Killings and attacks continue to persist.
At the end of the forum, this question was posed – "how do we strengthen protection of human rights activists during the pandemic?" One of the speakers accurately responded that the answer is to create international pressure and clamor through the help of international human rights organizations. It is imperative that we set up an international accountability mechanism to end the cycle of violence and impunity.
The pandemic should not hinder us from uniting with others; women, men, LGBTQIA+ individuals, indigenous peoples etcetera, in our fight for human rights.
Follow the KAIROS Women of Courage CSW65 reflections
Thank you for your support. Every dollar you donate to Women of Courage: Women, Peace and Security partners will generate an additional $3 in funding from Global Affairs Canada (GAC). DONATE
Reflection by Fermina A. Agudo, National Union of People's Lawyers, in the Philippines.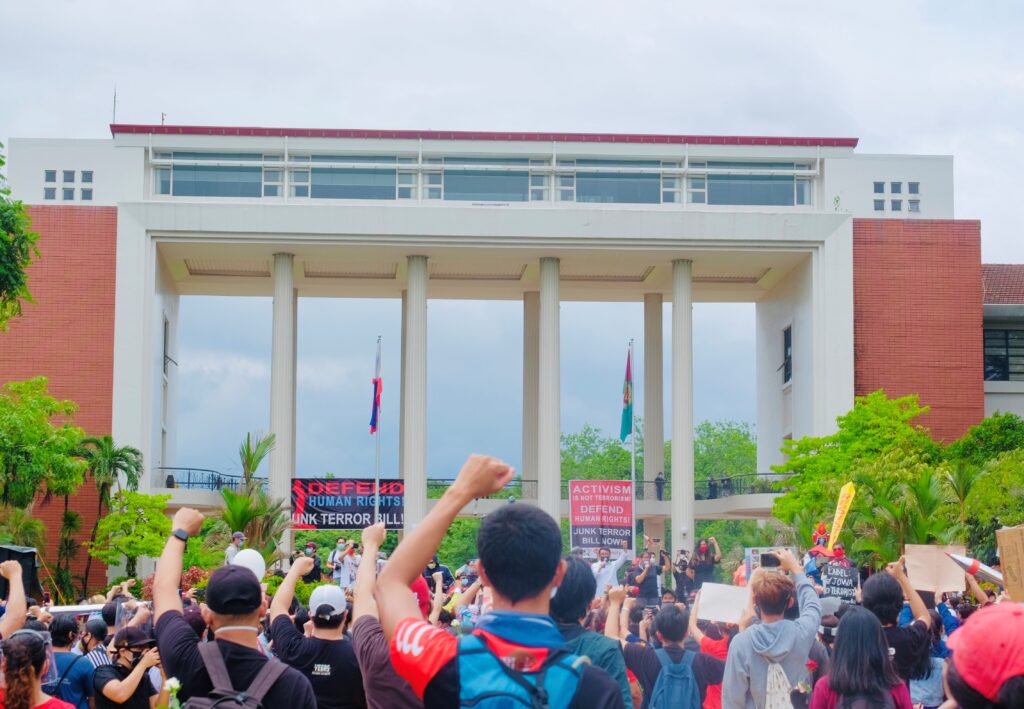 ---
La pandémie ne nous empêchera pas d'être unies en tant que femmes
J'ai eu l'honneur de participer à la CSW65, qui s'est tenue du 15 au 26 mars 2021, en tant que membre de la délégation de KAIROS et grâce à l'hébergement que l'Alliance ACT m'a généreusement offert.
La pandémie a peut-être empêché les femmes de se réunir physiquement, mais, grâce à la technologie, les participantes, y compris ici aux Philippines, ont pu faire l'expérience de New York pendant deux semaines. En effet, même une pandémie ne peut arrêter les femmes courageuses et intrépides du monde entier dans leur lutte pour l'égalité des sexes.
La multitude de forums et de thèmes abordés lors de l'événement m'a incitée à choisir des sujets en rapport avec mon pays, les Philippines. En tant que jeune avocate spécialisée dans les droits de la personne, je m'intéresse à la justice entre les sexes, à la défense des droits de la personne et à l'impact qu'a la pandémie sur ces enjeux.
Par ailleurs, le 26 mars 2021, alors que la CSW65 tirait à sa fin, le gouvernement philippin a annoncé de nouvelles mesures de confinement touchant la capitale et les régions voisines en réponse à un nombre record d'infections à la COVID-19 et à l'émergence de nouveaux variants du coronavirus.
Dans la séance intitulée « La pandémie ne nous arrêtera pas : Impact de la COVID-19 sur les militantes pour la paix en Colombie, aux Philippines, au Soudan du Sud et en Ukraine », parrainée par le Réseau mondial des femmes artisanes de la paix (GNWP), des militantes pour la paix des quatre coins du monde ont raconté comment la pandémie les a affectées. Parmi ces effets, on compte l'augmentation alarmante de la violence domestique, l'exclusion des femmes de la prise de décision et de la définition des politiques liées à la COVID, le ralentissement des pourparlers de paix, le chômage généralisé et les meurtres de femmes défenseuses des droits de la personne, pour n'en citer que quelques-uns.
Une des participantes à la séance a souligné qu'aux Philippines, le gouvernement combat la pandémie par des tactiques militaires plutôt que par des solutions médicales. Plus d'un an après le premier cas de COVID-19 enregistré aux Philippines et avec l'armée à la barre, nous sommes toujours dans un état d'esprit de fermeture et de confinement. De nombreux intervenants de première ligne et de travailleurs de la santé ont perdu la vie dans l'exercice de leurs fonctions. Dans le même temps, alors que la pandémie sévit, le pays a enregistré son plus grand nombre d'exécutions extrajudiciaires, dont certaines ont été perpétrées par les militaires.
Je ne peux m'empêcher de penser au sort déchirant de Reina Mae Nasino, femme, mère et militante des droits de la personne détenue. Elle a été arrêtée, ainsi que d'autres militants, en 2019 à son bureau. Elle a été inculpée sur la base de fausses accusations de possession illégale d'armes à feu et d'explosifs que la police y avait placés. Elle était enceinte lorsqu'elle a été incarcérée, et elle n'a pas reçu de soins prénataux en prison. Des restrictions plus sévères ont été appliquées lorsque le confinement a été imposé en mars 2020. Peu après son accouchement, le tribunal a ordonné qu'elle soit séparée de son bébé, bien que celui-ci soit très malade. L'enfant est décédé peu après. L'affaire Nasino n'est pas un cas isolé. Des avocats et des défenseurs des droits de la personne, des journalistes et des militants continuent à être arrêtés pour des motifs fabriqués de toutes pièces, dans le but de réduire au silence les dissidents et la critique. Les meurtres et les agressions se poursuivent.
Vers la fin de la discussion, la question suivante a été posée : « Comment renforcer la protection des militants des droits de la personne pendant la pandémie? » L'un des intervenants a judicieusement répondu que la solution est d'exercer à grands cris une pression internationale avec l'aide des organisations de défense des droits de la personne. Il est impératif que nous mettions en place un mécanisme international de responsabilité pour briser le cycle de la violence et de l'impunité.
La pandémie ne doit pas nous empêcher de nous unir (femmes, hommes, personnes LGBTQIA+, peuples autochtones, etc.) dans notre lutte pour les droits de la personne.
Une réflexion de Fermina A. Agudo, Conseil national des Églises des Philippines
---
La pandemia no nos va a impedir unirnos como mujeres
Tuve el honor de asistir a la CSW65 del 15 al 26 de marzo de 2021 como parte de la delegación de KAIROS y gracias al generoso apoyo de ACT Alliance.
Puede ser que la pandemia haya impedido que las mujeres se reunieran físicamente pero, gracias a la tecnología, las participantes, incluso aquí en Filipinas, pudimos experimentar y disfrutar de Nueva York durante dos semanas. Ciertamente, una pandemia no puede detener a mujeres valientes e intrépidas de todo el mundo en su lucha por la igualdad de género.
La multitud de foros y temas durante el evento me motivó a elegir temas que son relevantes para mi país, Filipinas. Como joven y aspirante a abogada de derechos humanos, me interesan temas sobre justicia de género, activismo por los derechos humanos y cómo la pandemia ha afectado estas actividades y la incidencia.
A propósito, cuando terminó la CSW65 el 26 de marzo de 2021, el gobierno de Filipinas anunció otro confinamiento en la capital y regiones aledañas. Esto es en respuesta a un récord histórico de casos de COVID-19 y al surgimiento de nuevas variantes.
En la sesión "La pandemia no nos detendrá: Impacto de COVID-19 en las mujeres activistas por la paz en Colombia, Filipinas, Sudán del Sur y Ucrania" patrocinado por la Red Global de Mujeres Constructoras de la Paz Inc., mujeres activistas por la paz de distintas partes del mundo indagaron en cómo la pandemia ha causado dificultades. Por ejemplo, está el aumento alarmante de la violencia doméstica, la exclusión de las mujeres en la toma de decisiones y en las políticas relacionadas con COVID, la lentitud del avance de las conversaciones de paz, el desempleo generalizado y los asesinatos de mujeres defensoras de derechos humanos.
Una de las participantes en la sesión señaló que, en Filipinas, el gobierno está combatiendo la pandemia a través de tácticas militares en lugar de soluciones médicas. Más de un año desde que se registró el primer caso de COVID-19 en Filipinas y con el ejército al mando, todavía tenemos una mentalidad de permanecer en casa confinados y encerrados. Muchas trabajadoras de primera línea y trabajadoras de la salud ya han muerto. Al mismo tiempo, el país ha registrado el mayor número de ejecuciones extrajudiciales en medio de la pandemia, algunas perpetuadas por los militares.
No puedo olvidar el desgarrador relato de Reina Mae Nasino; mujer, madre, trabajadora de derechos humanos y detenida. Fue arrestada en 2019 en su oficina junto con otras activistas. La policía colocó armas de fuego y explosivos y luego fue acusada de cargos falsos de posesión ilegal de armas de fuego y explosivos. Estaba embarazada cuando fue detenida, pero no recibió atención prenatal. Las restricciones se volvieron más estrictas cuando se impuso el confinamiento en marzo de 2020. Poco después de que dio a luz, el tribunal ordenó su separación de su bebé, a pesar de que el bebé estaba muy enfermo. Poco después su bebé murió. La violencia no se detuvo con el caso de Nasino. Las abogadas y defensoras de derechos humanos, las trabajadoras de los medios de comunicación y las activistas siguen siendo arrestadas por cargos falsos, con motivos de silenciar el disentimiento y la incidencia. Los asesinatos y los ataques perduran.
Al final del foro, se planteó esta pregunta: "¿Cómo fortalecemos la protección de las activistas de derechos humanos durante la pandemia?" Una de las ponentes respondió acertadamente que la respuesta es crear presión y clamor internacional con la ayuda de organizaciones internacionales de derechos humanos. Es imprescindible que establezcamos un mecanismo internacional de rendición de cuentas para poner fin al ciclo de violencia e impunidad.
La pandemia no debería impedirnos unirnos con los demás; mujeres, hombres, personas LGBTQIA +, pueblos indígenas, etcétera, en nuestra lucha por los derechos humanos.
Reflexión de: Fermina A. Agudo, Consejo Nacional de Iglesias de Filipinas.