Watch Online Now! 15 Speaker Presentations from Covenant Chain Link VI
---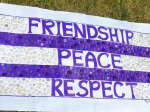 For the past five years Covenant Chain Link has brought together Indigenous and non-Indigenous peoples to build relationships based on the Covenant Chain principles of peace, friendship and mutual respect. This year, in response to the Truth and Reconciliation Commission's Calls to Action, Bob Watts, Tony Belcourt and Looee Okalik will reflect on what reconciliation means from First Nations, Métis and Inuit perspectives.
Bob Watts is a professor at the School of Policy Studies at Queens University. A former CEO of the Assembly of First Nations, he was the Interim Executive Director of the Canada's Truth and Reconciliation Commission and served as the Chief of Staff to AFN National Chief Phil Fontaine. He was a member of the team that negotiated the historic Indian Residential Schools Settlement Agreement.
Tony Belcourt is a Board member of Canadians for a New Partnership, which aims to build a new partnership between Indigenous and non-Indigenous peoples in Canada. He founded and was President of the Métis Nation of Ontario until 2008 and was Vice-President of the Métis Association of Alberta. In 2013 he was named an Officer of the Order of Canada. A longtime activist for Métis rights, his efforts contributed to the recognition in the Constitution Act, 1982 of the Métis as one of the Aboriginal peoples of Canada.
Looee Okalik is the Health and Social Development Project Coordinator at Inuit Tapiriit Kanatami. ITK represents and promotes the interests of Inuit on a wide variety of environmental, social, cultural, and political, issues and challenges facing Inuit on the national level. Her research into health-related issues in Inuit communities integrated traditional Inuit knowledge and demonstrated the impact of increased toxins and climate change on animals and the Inuit food supply.
John Rice, Zahgausgai zhinkaazo, Mukwa Dodemin, is an Ojibwa/Anishinabeninni and a 3rd Degree member of the Three Fires Midewiwin Society from Wasauksing First Nation near Parry Sound, Ontario. John is a student of the Miikaans Teaching which is an Anishinaabe teaching about the Spirit's journey through this physical realm and the mind's adjustments to physiological and experiential events. He adds this expertise to the Early Psychosis Intervention Team at Canadian Mental Health Association in Barrie, Ontario and the Enaahtig Outreach Team in Orillia, Ontario.  His past experience includes work for his community such as; Band Planner, Executive Director of Wasausink Lands Inc., Chief, Director of Education. Outside his community he has worked as; Part time lecturer at Georgian College – Barrie, the Coordinator of Aboriginal Spiritual Services at the Mental Health Centre in Penetanguishene (currently known as Waypoint Centre for Mental Health Care) and Elder/Healer to Aboriginal inmates at the Fenbrook Institution near Gravenhurst, Ontario.  John is a story teller, powwow singer/dancer, drum maker, martial artist, and downhill skier. He also enjoys canoeing, hiking and fishing.
Waubgeshig Rice is an Ottawa-based journalist and author from Wasauksing First Nation. He currently works as a video journalist for CBC Ottawa, and is a regular contributor to CBC Aboriginal. His short story collection Midnight Sweatlodge and his novel Legacy were both published by Theytus Books. In 2014, he received the Anishinabek Nation's Debwewin Citation for Excellence in First Nations Storytelling.
WORKSHOP DESCRIPTIONS
Inuit Experiences in Residential Schools
Peter Irniq will speak about an Inuit Experience of Residential School beginning with Turquetil Hall/Sir Joseph Bernier Residential School, run by the Roman Catholic Church. He will describe the loss of culture, language, Inuit Spirituality and parenting skills. Peter will also explain why "Talking about Pain is Healing," and how Canadians have a right, duty, and responsibility to know what happened in regard to residential schools and their legacy. He will also share comments on truth, reconciliation and moving forward. This is not only an Indigenous history, it is also Canadian history.
The Métis Education Kit
This workshop will explore Métis culture and history through the Métis Education Kit, produced by the Métis Nation of Ontario (MNO). MNO Education Kits are an excellent resource for students, teachers, educators and community members, and suitable for use in and out of the classroom. Each kit contains a variety of items including a sash, flashcards, fiddle music and a timeline of Métis history in Ontario. This is an exciting and inviting introduction to Métis history, culture and heritage.
Garnet's Journey
This workshop will introduce you to the website www.garnetsjourney.com – a digital oral history that tells the life story of Garnet Angeconeb in his own words. Garnet is an Anishinaabe from Lac Seul First Nation, and a survivor of residential school. In about 30 short videos (and one 21-minute documentary) Garnet tells stories from his life – from the trap line, to residential school, to the healing journey he's on today. Although Garnet can't be at the event in person (and, just as many Canadians will never meet a residential school survivor), the website makes his experience accessible to anyone with internet access. It's an effective and affordable educational tool for all educators, and relevant to all ages. This workshop will include a screening of the main documentary, as well as a discussion about the significance of first person, eyewitness accounts (i.e. oral history) in education.
Justice for Indigenous Women Jewelry-Making Workshop: A Fund-raiser!
More than 70,000 people have participated in Project of Heart (POH) across Canada, honouring the stolen lives of the children at the Indian Residential Schools (IRS) by decorating small wooden tiles. Learn how this directly relates to the stolen lives of Indigenous children, women, and men today. Make your own gesture of reconciliation, and create your POH "Witness Piece". Participation in this workshop will enable you to make a contribution to the J4IW initiative and empower you to do this social justice action in your own faith or education community.
For $20.00 you can participate in making J4IW jewelry. This price covers the cost of the materials needed to make the jewelry. What is left over will be used to support justice initiatives for First Nation, Métis, and Inuit women and girls in Canada. You will be able to keep your Witness Piece! Men are welcome and encouraged to attend.
Living Out the TRC Calls to Action
In this interactive workshop, participants will have a chance to learn and discuss how they can work at implementing in their own lives the Truth and Reconciliation Commission's (TRC) 94 Calls to Action. Participants will hear ideas from across the country, become familiar with the recommendations addressed to different sectors of Canadian society, and explore how they can live out the Calls to Action in their various roles within a religious community, the education sector, and the public or private sectors.
BACKGROUND
In 2010, individuals from KAIROS Canada, First Nations, Métis and Inuit organizations, local churches and local schools and school boards came together in Ottawa with an idea to use education in its many forms to build bridges of understanding and respect between Indigenous and non-Indigenous people. They called their initiative Covenant Chain Link in honour of the Covenant Chain alliance between the Iroquois Confederacy (Haudenosaunee) and the British colonies of North America. Embodied in the Two Row Wampum treaty, the Covenant Chain respects the dignity and integrity of the two peoples, stresses non-interference, and is based on the principles of peace, friendship and mutual respect.
Over the years key note speakers have included the late Elijah Harper, professor and author Paulette Regan, Francine Lemay, the sister of Corporal Lemay, who was shot during the occupation of Kanehsatake, also known as the "Oka Crisis," and Peter Ittinuar, Zebedee Nungak and Eric Tagoona, the Inuit men who were part of a 1960s government social engineering experiment, and whose lives were portrayed in the NFB film "The Experimental Eskimos." Last year's key note speaker was Dr. Anita Olsen Harper, the widow of the late Elijah Harper and the lead researcher on violence against Aboriginal women for the National Aboriginal Circle Against Family Violence. She is the first Indigenous school trustee in Ottawa.