On International Day of Peace, KAIROS joins network in calling for Peace in South Sudan
---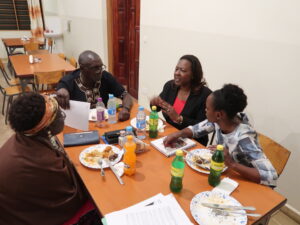 KAIROS joins members of the Ecumenical Network South Sudan (ENSS) and partners of the South Sudan Council of Churches (SSCC) in calling international attention to the urgent need for peace in South Sudan. The ENSS has released a statement on the International Day of Peace, September 21st which describes the humanitarian crisis in South Sudan and increased vulnerabilities caused by the impacts of COVID19. It also highlights the central role of civil society including churches, women, community groups, youth and diaspora communities in building peace:
The inclusion of broad and meaningful participation of various groups – civil society, youth and women groups, diaspora communities, churches and faith-based organisations- in both local and national peacebuilding and reconciliation processes to address historical grievances remains critical to ensure that the voices of ordinary South Sudanese are being heard and to start shaping a peaceful future together.
The SSCC has also issued a statement commemorating the International Day of Peace, under the theme; "End the Violence and Shape Peace Together".  The statement urges political parties especially the signatories to the Revitalized Agreement for the Resolution of the Conflict in South Sudan (R-ARCSS) to recommit and speed up the implementations of the provisions in the agreement and calls on international partners to support this process.   It describes the urgent need for peace in South Sudan: 
The implementation of this peace agreement for the common children of God means silencing the guns, an end to sexual gender based violence, sleeping in peaceful communities without the fear of being killed or robbed, recovery of economy, protection of children and women, development of inter and intra states infrastructure… The full implementation of the peace agreement (R-ARCSS) will reduce the violence perpetrated against women and children across the country.
KAIROS joins the international community and SSCC in calling for the full implement of the current peace agreement in South Sudan. Women must be integral to this process, in the formulation of approaches to peace as well in its implementation and monitoring. Through the Women of Courage: Women, Peace and Security program, KAIROS works in partnership with the SSCC to support women's participation in the peace process and their daily work in building conditions for just, equitable and inclusive peace.
As the world prepares to celebrate the 20th anniversary of United Nations Security Council Resolution 1325 on Women, Peace and Security, KAIROS supports and advocates for women's participation and leadership in peacebuilding around the world, including in South Sudan through the SSCC.