Let Justice and Peace Flow…and Stop the Flow of Fossil Fuels
---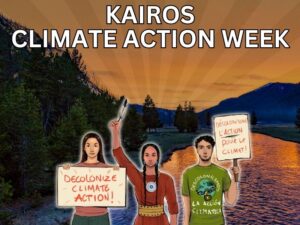 "Future generations will never forgive us if we miss the opportunity to protect our common home. We have inherited a garden; we must not leave a desert for our children."

Joint statement from Pope Francis, the Ecumenical Patriarch Bartholomew and Archbishop Justin Welby of Canterbury
On September 1, the ecumenical Season of Creation started and will run until October 4, the Feast Day of St Francis of Assisi. Climate Action Week is a fitting time to reflect on this year's Season of Creation theme: Let Justice and Peace Flow. Here is a short excerpt from the Season of Creation about it:
Prophet Amos cries out "But let justice roll on like a river, righteousness like a never-failing stream!" (Amos 5: 24) and so we are called to join the river of justice and peace, to take up climate and ecological justice, and to speak out with and for communities most impacted by climate injustice and the loss of biodiversity.
When it comes to climate justice, the flow of justice and peace is being disrupted by the flow of fossil fuels and the flow of money subsidizing fossil fuel expansion and growth.
In the report, Banking on Climate Chaos 2023, researchers found that "Fossil fuel financing from the world's 60 largest banks has reached USD $5.5 trillion in the seven years since the adoption of the Paris Agreement." They further reported that in Canada, "RBC provided fossil fuel companies $41 billion in 2022, an increase over its 2021 financing, making for a total of $252.5 billion since 2016."
In 2020, IISD estimated that total annual fossil fuel subsidies from governments across Canada were approximately $4.8 billion CAD per year in 2018 and 2019.
The flow of money to subsidize fossil fuel expansion must stop. It is time to rapidly reduce global greenhouse gas emissions by accelerating the transition away from fossil fuels. The science is clear. The calls from Indigenous leaders are clear. In their report, Decolonizing Climate Policy, Indigenous Climate Action calls on us to address the root causes of the climate crisis: colonial capitalism and extraction.
Indigenous Environmental Network's Just Transition principles also demand that we "leave more than 80% of known fossil fuel reserves under the soil and beneath the ocean floor and ban all new exploration…" Leave the oil in the soil and let justice and peace flow.
As we prepare for the Global Climate Strike this weekend, let us amplify the calls from youth who are showing us that another world is possible. This year's strike demands an end to fossil fuels. This Climate Action Week, we will amplify their demands and explore efforts to stop the flow of fossil fuels, such as the Fossil Fuel Non-Proliferation Treaty. On Friday and Saturday, join Global Climate Strike actions across the country, and join hands with youth, Indigenous peoples, and global voices calling for an end to fossil fuels.
Join us for these events:
Climate Action Dialogues: Building Momentum for a Fossil Fuel Non-Proliferation Treaty 🚫🛢️
📅 Tuesday, September 12 (7:00 – 8:30 p.m. EDT)⏰
Guest speakers: Tia Kennedy, Indigenous rights activist; Matthew Van Abbema, Fridays for Future Ottawa; the Fossil Fuel Non-Proliferation Treaty Network
Register now!
KAIROS Leadership Seminar: Fossil Fuel Non-Proliferation Treaty 🚫🛢️
📅 Tuesday, September 14 (noon – 1:00 p.m. EDT)⏰
Guest Speaker: Reverend Canon Rachel Mash from Green Anglicans (Anglican Church of Southern Africa)
Register Now!
Global Climate Strike
Organized by Fridays for Future and End Fossil Fuels
📅 Friday, September 15 – Sunday, September 17
Find an action near you!
Participate in For the Love of Creation's Creating for Creation Campaign
To open this week of reflection and collective action, please take a moment to read the 2023 Season of Creation Prayer.