KAIROS Climate Action Week calls for prioritizing Global South voices at COP28
---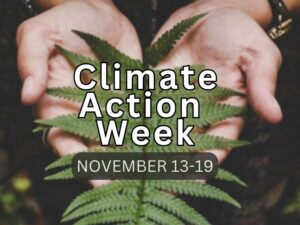 KAIROS Canada launches its third 2023 Climate Action Week, November 13-19,  co-sponsored by For the Love of Creation 
(Toronto – Treaty 13 with the Mississaugas of the Credit) – In the lead up to the 28th Conference of the Parties of the United Nations Framework Convention on Climate Change (COP28), KAIROS' Climate Action Week, November 13-19, will focus on centering the voices from the Global South, who, like Indigenous peoples in the North, are the most impacted by the climate crisis and the least consulted on the development of climate policies and programs.
During the week, events, reflections and actions will center on the theme: Decolonizing Climate Action: Centering Voices from the Global South. This Climate Action Month is co-sponsored by For the Love of Creation, a faith-based initiative for climate justice. 
This is the third of three climate action weeks this year. Previous weeks took place in June (5-11) and September (11-17) and are unified under the Decolonizing Climate Action theme. Climate Action Week focused on Indigenous ways of knowing in June and keeping the oil in the soil and letting justice flow in September.
"For years, COP meetings and agreements have privileged voices and positions from the Global North over the South and focused on solutions that have failed to be equitable and incorporate the global range of actors and their positions," says Beth Lorimer, KAIROS' Ecological Justice Coordinator. "KAIROS' Global South partners have been active and vocal in regional climate meetings in the lead up to COP28. Climate Action Week offers a platform for their voices."
This Climate Action Week features the event, Churches' Advocacy on Loss and Damage on Tuesday, November 14 at 7:30 p.m. EST, hosted by ACT Alliance, KAIROS Canada, Canadian Foodgrains Bank, and For the Love of Creation. Online. Details and register.
KAIROS and For the Love of Creation sent a delegation to COP27 in 2022 to advocate for a seat at decision-making tables to tackle the climate crisis. The delegates included Indigenous partners and youth from Turtle Island, and KAIROS' partners in the Global South.
COP28 takes place from November 30-December 12 in Dubai, UAE and will include the first Global Stocktake to assess the world's progress since adopting the Paris Agreement in 2015, as well as important discussions about Loss and Damage, climate adaptation, and food systems and agriculture.
Learn more: KAIROS Climate Action Week
About KAIROS: Canadian Ecumenical Justice Initiatives:
KAIROS is a social justice organization that includes ten Canadian churches and religious organizations. We are Indigenous, settlers and newcomers in Canada working with people of faith or conscience all over the world for ecological justice and human rights. We deliberate on issues of common concern, advocate for social change and join with people of faith and goodwill in action for social transformation. Learn more: KAIROS Canada website.
---
Media Contact:  
Cheryl McNamara, Communications and Advocacy Coordinator, KAIROS Canada, cmcnamara [at] kairoscanada [dot] com.