Expression of Reconciliation presented to the TRC by KAIROS Saskatoon
---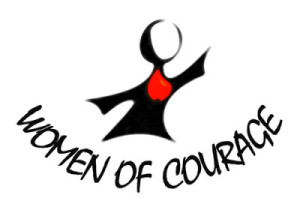 What better way to start a blog on examples of reconciliation and truth-telling than with an Expression of Reconciliation? These Expressions are part of every Truth and Reconciliation Commission national event, and can be offered by individuals, organizations, government bodies, faith communities, and more. We'll be posting more through the year.
This Expression was offered KAIROS Saskatoon, one of KAIROS' local, grassroots Communities. Three days earlier, this vibrant group had also hosted a public event with visiting "Women of Courage" partners Claudia Castellanos (Colombia),  Lucy Talgieh (Palestine) and Jill Harris, Penelakut First Nation, BC. 45 people joined in the discussion on women's human rights from local to global, in the context of a country that is (or should be) seeking truth and reconciliation.
Presented to the Truth and Reconciliation Commission at the Saskatoon National Event by Shawn Sanford Beck and Michele Rowe, KAIROS Saskatoon members. Accompanied by Suzanne Sauder (KAIROS Regina), and Dick Peters (KAIROS Saskatoon), representing the KAIROS Prairies North region.
June 23, 2012
To the Elders present today, survivors of the Residential Schools, your families, honourable Commissioners, community leaders, and members of our wider communities:
It is with gratitude and humility that we honour you for your courage and generosity in sharing your stories of loss and grief, resistance and healing. With fresh hope in our hearts, we treasure this opportunity to reach out to you, our brothers and sisters, in the spirit of reconciliation. We thank you and the TRC for giving us this opportunity to speak to you.
We stand before you as representatives of KAIROS Saskatoon, a local branch of the regional and national KAIROS: Canadian Ecumenical Justice Initiatives.  Through our national body, we engage in acts of solidarity with Indigenous peoples in Canada, and with our Southern Partners such as the Human Rights "Women of Courage" visiting from Colombia and Palestine during these hearings.
We wish that we could say that the lasting effects of past injustices are over, but they are not. However, we believe that, in the midst of the struggles to understand, your non-Indigenous brothers and sisters are witnesses to your healing journeys, both as individuals and communities. As we open our minds and hearts to the beauty and strength of your culture, we are being changed.
Part of reconciliation entails an ongoing commitment to justice and right relationship.  The destructive patterns of colonialism still continue in this land, and as KAIROS Saskatoon, we have committed ourselves to resisting these patterns.  To this end, we have been drawn and held together in solidarity with a group of  Indigenous leaders and supportive others from northern Saskatchewan, known as the "Committee for Future Generations".  This brave group joined together to prevent the transportation and burial of nuclear waste on their land, in areas of northern Saskatchewan largely occupied by small First Nations and Métis communities.  As historic caretakers of the land, they knew that an accident could occur, allowing waste to poison the inhabitants, land, and water with radioactive pollutants that will remain toxic over thousands of our future generations.
As a sign and token of our commitment to reconciliation, we pledge to continue our work with this group, and with all our brothers and sisters who care for creation. We promise to listen to and respect your teachings, to recognize the First Peoples as the original inhabitants of this land, and to join with you in times of struggle and joy.
Honourable Commissioners, as an expression of our commitment to reconciliation and solidarity, we present this small open hand, outstretched in peace, holding a symbol of water.
(Response from Bill Curry of Wynyard Saskatchewan, also involved with the World Council of Churches:
Greetings All.
When the Truth & Reconciliation Commission  http://www.trc.ca  was in Saskatchewan, I was able to attend on Saturday, June 23, in Saskatoon. During the time I was there, I estimate 1500-2000 people in the various
venues at the Prairieland Park site.  At the same time, another thousand-plus were at the powwow at Wanuskewin, north of the city.
Throughout the day and evening, at least 400-500 were in attendance in the hall with the Commissioners.  Following a day of public testimonies, the early evening session shifted to reconciliation statements, including
those of national Churches.
KAIROS introduced its statement by inviting "members of KAIROS local, regional, national and international partners as well as members of member churches and organizations to stand with us while we present our
Expression".  It was very moving when close to a hundred people stood.)