A chance to win two great prizes: KAIROS Climate Action Month
---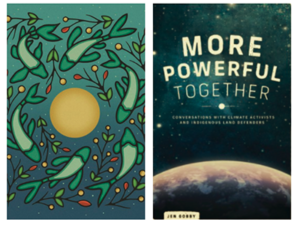 Download the 30-Day Challenge ACTION Card and track your actions throughout September.
Share your completed Action Card or a post of you completing one of the actions, using the hashtags: #KAIROSClimateAction and #30DayKAIROSChallenge. All  tagged post s will be put in a draw for great prizes at the end  of the month.
This year we have two great prizes to offer!
A copy of More Powerful Together: Conversations with Climate Activists and Indigenous Land Defenders by Jen Gobby
A print by French/Indigenous artist, Alanah Jewell of Morning Star Designs
Follow the hashtags #KAIROSClimateACTION #30DayKAIROSChallenge and #ClimateJustice on  Facebook,  Instagram  and  Twitter. Follow  our blog  for details on each action.
---