The São Paulo Statement "International Financial Transformation for the Economy of Life"
---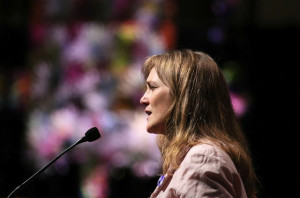 The global ecumenical community has issued a strong call for the transformation of the world's financial system. A statement calling for a new financial and economic architecture emerged from a conference attended by sixty delegates from Christian churches from every continent. The World Communion of Reformed Churches (WCRC) in partnership with the World Council of Churches (WCC) and the Council for World Mission (CWM) organized the gathering which took place in São Paulo, Brazil from September 29th to October 5th 2012.
Omega Bula of the United Church of Canada moderated the drafting group which included John Dillon, KAIROS Program Coordinator for Global Economic Justice. Ms Bula highlights the fact that the statement contains clear alternatives to the current system.
Dr. Rogate Mshana, who coordinates the WCC's program on Poverty, Wealth and Ecology, notes that "The most striking proposals that need to be followed up by an ecumenical panel include … replacing the International Monetary Fund with a new democratic International Monetary Organization and an alternative international reserve currency."
CWM general secretary Rev. Dr Collin I. Cowan stressed the diversity of disciplines present at the conference and the consensus reached. "The outcomes of this conference suggest that there is enough goodwill and courage among us to participate in a process to right the wrongs of a society gone mad with injustice in the economy and the earth."
WCC Central Committee moderator, Rev. Dr Walter Altmann, added: "There is common ground for people and churches from the South and the North precisely because the financial crisis has shown a dynamic that has affected people everywhere deeply in their life conditions."
"I want you to see this day as a beginning of a new era of action," the general secretary of the WCRC, Setri Nyomi, declared at the close of the conference. "I hope that the commitment that we did come up with will be the beginning step towards an economy that serves life."
To read the full São Paulo Statement "International Financial Transformation for the Economy of Life", click here.
Sources: WCC, WCRC, CWM