Spirited Reflection: Children of courage
---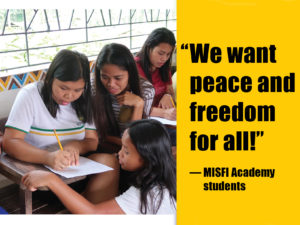 This week the KAIROS Epiphany resource, Listen to the Children: A Worship Resource for Justice Seekers (digital) (print) and Écoutez les enfants, highlights the situation of extremely vulnerable children who find and demonstrate strength and resilience.
Child enslaved and saving her master
The heroine of the story in 2 Kings 5:119 is a young and unnamed Israelite girl. After being snatched from her homeland during a war raid, she now lives in the land of Aram (present-day Syria). In her new land, she is enslaved to the wife of an army commander. This seemingly unlikely heroine – a foreigner, a servant, a young girl – has very little social power or status, and yet she sets in motion a chain of events that eventually leads to the healing of an army commander.
The military commander is Naaman, whose Aramean army has defeated many, and who lives with leprosy. His skin disease would have been visible and obvious. At that time, people with leprosy were considered unclean, socially ostracized, and excluded from the community. Some say this exclusion was to prevent further spreading of the disease; others believed the disease was a sign of God's judgement against them.
The young heroine declares that there is a prophet in her homeland who could heal Naaman. She speaks this truth to Naaman's wife. Naaman's wife in turn tells Naaman; Naaman tells the King of Aram; and this king writes a letter to the King of Israel commanding him to heal Naaman of his disease.
The King of Israel was not the prophet of whom the child spoke. Nevertheless, Naaman takes the king's demanding letter, along with several riches to the land and presents them to the king. The king is uncertain of what to do in response. Elisha – who is the prophet – learns what is happening and asks the king to send Naaman to him for healing.
When Naaman visits Elisha, Elisha sends a servant out to speak to Naaman and orders him to wash in the Jordan River seven times. Naaman is astonished by these instructions. The commander expected a more formal ceremony for the healing ritual, especially given his social status. He complains that there are rivers in his homeland that are even better than the Jordan. It is then, for the third time in this story, that servants play a key role: his servants encourage Naaman to get over his pride. Once Naaman finally bathes in the Jordan, his skin is healed and restored.
While the healing of Naaman is miraculous, it is the young unnamed girl whose faith started it all, and who is a pivotal part of this story. And it is impossible to forget that this child was a slave who was taken from her own land during war times.
Today, around the world, young children are particularly vulnerable during times of war. In some countries, children are recruited as soldiers. Some trained to participate in armed violence, including the killing of others. Many are abused. People who have been child soldiers are often quite traumatized and need psychological rehabilitation to reintegrate back into society.
A recent United Nations report notes that children are disproportionately affected by armed conflict. Some are recruited into fighting; many are killed. The same report explains "children continued to be abducted, often to be used in hostilities or for sexual violence." 
Children around the world are also particularly subject to exploitation, including child trafficking. According to UNICEF, child trafficking occurs with the intention of forced labour, sexual exploitation, and/or child marriage. More than half of the victims of child trafficking are moved across borders. Canada is not immune to child trafficking. In Toronto alone, the police have dealt with 1,100 cases and assisted with 300 victims of human trafficking.
Like the girl in this biblical story, children today are also forced to migrate from their homelands, for a variety of reasons. Today, almost one in 200 children is a refugee. Further, refugee and migrant children are among the most vulnerable of all children. 
The young unnamed girl is also reminiscent of the millions of people stolen from the African continent during the Transatlantic Slave Trade beginning in the 16th century. At that time, more than 12 million Black people, including children, were forced into a lifetime of enslavement and abuse in the Americas and the Caribbean. Black people today are still living with legacies of this heinous and exploitative enslavement system.
This biblical story reminds us of the many ways in which children can be exploited locally and around the world. What is our role as people of faith in challenging exploitation in our own contexts? How might God be calling us to respond, given some of the realities of today's world?
The story from 2 Kings also recognizes that wisdom can come in many forms. 2 Kings 5:1-19 referenced kings from two different lands, an army commander and his wife. It was the enslaved child, in the end, who offered the wisdom to bring about healing.
Read or hear from some Young Voices at Risk from among KAIROS partners around the world. 
---
With thanks to the KAIROS Epiphany Team, including all the child/youth consultants and Shannon Neufeldt, and to Adele Halliday – team leader for Discipleship and Witness at the United Church General Council Office, on maternity leave – for this reflection.