Press Advisory: KAIROS launches online tool for Indigenous women land defenders at Toronto event, November 27
---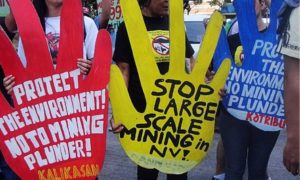 (Toronto, ON) – KAIROS Canada presents MERE Hub on November 27 at Ryerson University (Architecture Building – 325 Church Street) between 5:30 and 7:30 p.m. The panel event, featuring Indigenous women land defenders from Guatemala and Colombia, will officially launch Mother Earth and Resource Extraction, or MERE Hub, an online platform that connects and helps further empower Indigenous women land and water defenders in Canada and worldwide and was developed in consultation with women at the forefront of environmental protection.
WHAT
MERE Hub Launch
Panel discussion featuring two Latin American land and water defenders to launch MERE Hub. MERE Hub compiles a range of original and existing material to support Indigenous women land and water defenders in their research, advocacy, information sharing, and movement building around resource extraction and its negative impacts on women and communities.
WHEN
Wednesday, November 27; 5:30 – 7:30 p.m.
WHERE
Ryerson University, Architecture Building (325 Church Street, Toronto)
WHO
Moderator: Magdalena Ugarte, Assistant Professor at Ryerson University's School of Urban and Regional Planning
Panelist: Natalia Atz Sunuc of the Guatemalan association Kaji' Ajpop
Panelist: Isabel Zuleta, with Movimiento Ríos Vivos Antioquia in Colombia
KAIROS Canada: Gabriela Jiménez, Latin America Partnerships Coordinator
KAIROS is launching the MERE Hub during the 16 Days of Activism against Gender-Based Violence campaign, which begins November 25, the International Day for the Elimination of Violence Against Women, and ends on December 10, International Human Rights Day.
MERE Hub is one component of a SSHRC Partnership Engage Grant awarded to KAIROS and Dr. Sherry Pictou, Assistant Professor of Women's Studies at Mount Saint Vincent University.
Press Release: KAIROS brings together women land defenders through digital hub
About KAIROS: Canadian Ecumenical Justice Initiatives
KAIROS is a social justice organization that includes ten Canadian churches and religious organizations. We are Indigenous, settlers and newcomers in Canada working with people of faith or conscience all over the world for ecological justice and human rights. We deliberate on issues of common concern, advocate for social change and join with people of faith and goodwill in action for social transformation. Learn more: www.kairoscanada.org.
---
Media Contact:
Cheryl McNamara, Media Coordinator
877-403-8933 x 246, 416-875-0097 (mobile), cmcnamara@kairoscanada.org