KAIROS Canada Day Statement / Déclaration de KAIROS pour la fête du Canada
---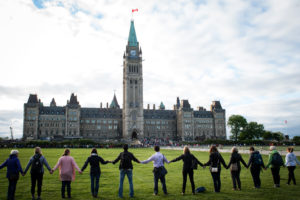 On July 1, many people across Canada will gather to celebrate 150 years of Confederation. In solidarity with many Indigenous peoples, communities, and organizations, KAIROS chooses not to celebrate, but rather to use this moment to affirm our commitment to reconciliation. In respect for the memory of the late Arthur Manuel, and in solidarity with grassroots movements, KAIROS endorsed UNsettling Canada 150 and its call for National Day of Action on July 1—one that celebrates Indigenous peoples' right to self-determination and educates about the truth of Confederation and its legacy.
These days, the word "reconciliation" is everywhere, either as part of a land or territorial acknowledgement, during cultural exchanges, or at events. KAIROS has learned that words only go so far and that genuine reconciliation also requires action and accountability, as well as seeking recognition and understanding of Indigenous worldviews.
In advance of the release of its final report, the Truth and Reconciliation Commission of Canada (TRC) developed ten guiding principles for reconciliation. One of these involves "integrating Indigenous knowledge systems, oral histories, laws, protocols, and connections to the land into the reconciliation process."
According to many Indigenous perspectives, a person needs to be a good neighbour. Being a good neighbour, or in what some traditions is called "walking the red road", means choosing to be of service to others and to the community. Responsibility, duty, and obligation are key concepts that can be found in nearly all Indigenous cultures and they are often used in place of the word "rights" in Indigenous languages. It is the practice of living with a sense of responsibility to each other that will lead towards a more equitable and just country.
Another TRC principle says that as Treaty peoples we all "share responsibility for establishing and maintaining mutually respectful relationships." Whether Indigenous, or the descendents of settlers or newcomers, we are bound by a covenant of respect to work collaboratively towards the recognition of Indigenous peoples' rights, and the full implementation of the TRC's 94 Call to Actions and the UN Declaration on the Rights of Indigenous Peoples. Today, in 2017, there is so much work still to do.
For KAIROS, July 1 is one more opportunity to strive to be a good neighbour, and to collaboratively take another step on the journey towards a reconciled and respectful society.
---
Le 1er juillet les gens vont se rassembler partout au Canada pour célébrer le 150e anniversaire de la Confédération. En solidarité avec de nombreuses personnes, communautés et organisations autochtones, KAIROS choisit de ne pas célébrer, mais plutôt de saisir ce moment pour affirmer son engagement à la réconciliation. En respect pour la mémoire du regretté Arthur Manuel et en solidarité avec nombre de mouvements populaires, KAIROS endosse UNsettling Canada 150 (DÉcoloniser le Canada 150) et son appel à une Journée nationale d'action le 1er juillet, qui célèbre le droit des peuples autochtones à l'autodétermination et vise à sensibiliser à la vérité de la Confédération et à son héritage.
Aujourd'hui le mot réconciliation se rencontre partout, souvent comme élément de la reconnaissance d'une terre ou d'un territoire, au cours d'échanges culturels, ou lors d'activités. KAIROS a appris que les mots ont une portée limitée et qu'une authentique réconciliation requiert action et reddition de comptes de même que l'effort de reconnaître et de comprendre les visions du monde autochtones.
Dès avant de la publication de son rapport final, la Commission de vérité et réconciliation du Canada (CVR) avait élaboré dix principes directeurs de la réconciliation. L'un deux stipule qu'« intégrer les systèmes de savoir, les histoires orales, les lois, les protocoles et les liens avec la terre des Autochtones sont des éléments essentiels au processus de réconciliation. »
Selon diverses perspectives autochtones, une personne se doit d'être un bon voisin. Être un bon voisin, c'est le choix de servir les autres et la communauté, dont quelques traditions appellent « marcher sur la route rouge ». Responsabilité, devoir et obligation sont des concepts clés qu'on retrouve dans presque toutes les cultures autochtones; ils sont utilisés à la place de « droits » dans le langage autochtone. C'est la pratique de vivre animé par le sens de la responsabilité les uns envers les autres qui mènera à un pays plus équitable et plus juste.
Un autre principe de la CVR affirme qu'à titre de personnes visées par les traités, nous partageons toutes et tous « la responsabilité de l'établissement et du maintien de relations mutuellement respectueuses ». Que nous soyons autochtone ou descendant des colonisateurs ou nouvel arrivant, nous sommes liés par une alliance de respect mutuel à travailler de concert à faire reconnaître les droits des peuples autochtones, et à mettre pleinement en œuvre les 94 Appels à l'action de la CVR et la Déclaration des Nations Unies sur les droits des peuples autochtones. Aujourd'hui, en 2017, il reste tant à faire encore!
Pour KAIROS, le 1er juillet est une occasion de plus de s'efforcer d'être un bon voisin et de faire ensemble un pas de plus sur la voie menant à une société réconciliée et respectueuse.