The KAIROS Blanket Exercise goes to Alaska
---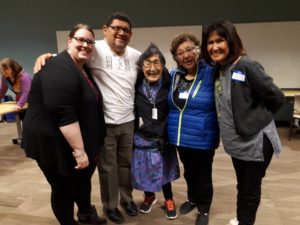 Interest in the KAIROS Blanket Exercise (KBE) is growing beyond Canada's borders
In late May I traveled to Anchorage, Alaska with Lillian Underwood, an Indigenous KBE trainer and facilitator based in B.C., and my colleague, KBE Coordinator Sara Anderson, for a KBE Facilitator Training session with the Alaska Native Tribal Health Consortium.
It was a beautiful, humbling experience. The mountains and ocean felt at one with the region's beautiful people, who welcomed us warmly. Snow topped mountains surrounded us.
Against this backdrop we shared our KBE experience with 18 facilitator trainees. We talked about best practices, and the process for adapting the KBE to reflect Alaskan history and current times.
Elders Rita Blumenstein and Rev. Anna Frank welcomed us to the territory with an opening ceremony. Elder Blumenstein is the first certified traditional Indigenous doctor in Alaska, and Rev. Frank is one of the state's first female leaders in the Episcopal Church.
These celebrated and accomplished Elders shared their wisdom and sense of humour, and joined us for lunch and dinner. I felt that rather than "facilitate a training session" we shared our experiences with a group of new friends. Their humility and generosity live in my mind and heart.
They explained how the history in the Canadian KBE script resonates with Indigenous people in Alaska. For example, Alaska shares a history of "Boarding Schools" similar to the Indian Residential schools in Canada. This is one part of the history that will be included in the Alaska KBE script. We look forward to collaboratively developing a network of KBE facilitators in Alaska, beginning with Anchorage and Fairbanks, which is where the new facilitators live.
We ended the training with laughter. Teisha Simmons, who is action-oriented and warm-hearted, said a group photo was needed so that we can look back and say, "remember that training we got in that freezing room."

Yes, the room was cold, but our hearts and spirits were warmed by everyone's welcoming generosity and humor.
It truly was an honour – and great fun – to work with this amazing group of friends who will adapt the KBE to Alaska. Thanks again to the Alaska Native Tribal Health Consortium for organising the KBE Facilitator Training session, and for taking the lead. Thanks to Elders Rita and Anna for their guidance and support. We look forward to working together!
Stay tuned for more reports of KBE outreach to partners in the U.S., Guatemala and Australia. If you have questions, ideas or leads, please contact me at abarahona@kairoscanada.org
---
Written by Alfredo Barahona