Indigenous and Newcomer Friendships: Building relationships of solidarity
---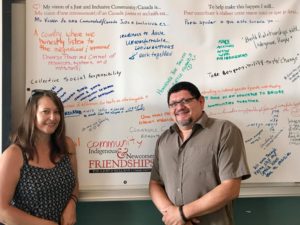 Guests of the Festival of Faith were invited to participate in a workshop presented by Alfredo Barahona and Dawn Maracle that shared experiences with the KAIROS Blanket Exercise and the KAIROS project, Indigenous and Newcomer Friendships for a Just and Inclusive Community. While commissioners were beginning to gather for the first business of the 43rd General Council, these guests participated in personal and honest dialogue about colonization, reconciliation, and friendship-building.
Throughout the conversation, it became clear that newcomers to Canada—who are often not educated about the Indigenous peoples of this land, or even that there are Indigenous peoples—learn from the Indigenous peoples of Canada that stories and effects of colonization are largely similar. There has been genuine interest from both Indigenous peoples and newcomers to learn the histories of the other.
Barahona and Maracle educated members from the wider church about the limitations that colonial structures present to Indigenous peoples of any area of the world. These individuals, at different places in their journey to ally-ship, found that the intimate workshop provided a safe-space to discuss local and wider concerns for relations with Indigenous peoples.
Ultimately, global citizens will have to come together with an open, respectful frame of mind to begin to develop an anti-colonial framework of cooperation, common good, and collectivity.
"This is the time in history we're meant to come together," says Maracle. "We have to learn about each other, and we have to do it before it's too late."
As the proposed regions will be decided at this General Council, a workshop on Indigenous and newcomers friendship opens the door to deepening the communication and friendships between neighbouring communities.
Barahona remarked, "The notion of church as the centre of community versus community of the centre of the church determines how we operate and relate to people."
Alfredo Barahona and Dawn Maracle offered the following suggestions when making connections with local Indigenous peoples:
There is never one-way learning, especially for Indigenous peoples and newcomers. Indigenous and newcomer groups nearly always learn from each other.
Try to learn more than what has been taught to you.
Sometimes, you have to go where people are; you cannot always expect people—and relationships—to come to you.
Respect the moment and time when people in your community and surrounding communities are ready to teach you about their ways.
Newcomers are clearly aware that there is more in common than was previously known, but there is also shame and guilt for not being aware of colonial histories.
---
Originally posted on The United Church of Canada website on  Stephanie Strachan. Photo belongs to The United Church of Canada.