Indigenous and Newcomer Friendships – for a just and inclusive community
---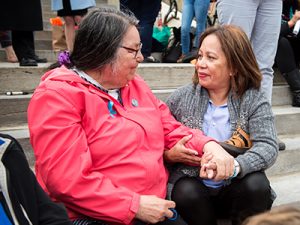 KAIROS and its partners invite Indigenous peoples and newcomers  in Canada to join in a series of reconciliation events running until March 2018 entitled, Indigenous and Newcomer Friendships for a just and inclusive community. KAIROS believes Canada's future can be strengthened by building relationships of respect and solidarity between newcomers and Indigenous peoples. The first of these events was held in Fredericton in October 2017.
Upcoming events in Thunder Bay, Winnipeg and Edmonton will continue to explore opportunities, challenges and recommendations for building relationships between Indigenous, immigrant and migrant communities.
These dialogues will be facilitated through a series of activities including concerts/cultural performances, workshops and sharing gatherings in five Canadian cities.
Share

. Listen.

Learn

. Make friends.

Take action

. All are welcome!
---
Thunder Bay – February 27 to March 22, 2018
Tuesday, February 27 to Thursday, March 1
Join students from 23 remote communities in Northern Ontario and friends in Thunder Bay. Experience the culture, and discover what Indigenous students go through to get an education.
Dennis Franklin Cromarty High School (315 Edward St N, Thunder Bay)
For more information, please contact: Sean Spenrath at 807-629-2614 or by email at sspenrath@nnec.on.ca
Partners:
Dennis Franklin Cromarty High School
Northern Nishnawbe Education Council
Thursday, March 22, 2018, 1:00 to 4:00 pm
Reconciliation in Thunder Bay: Moving Forward Together
Join us for engaging brainstorming and discussions on reconciliation efforts in Thunder Bay!
Dennis Franklin Cromarty High School – Gymnasium
Keynote Speaker: Dr. Cynthia Wesley-Esquimaux, Lakehead University
Registration: Free! More details to come.
---
Winnipeg – Thursday, March 1, 2018
Building Bridges, Creating Ties: Getting together as One Voice
Invitation only
Indigenous peoples and newcomers from Winnipeg's ethno cultural communities come together to share traditional food and personal stories using their rich oral traditions to connect and build relationships. By invitation only.
Partners:
Immigration Partnership Winnipeg
KAIROS (Cambrian Agassiz)
---
Edmonton – Saturday, March 10, 2018, 10:00 am to 4:00 pm
Indigenous and Multicultural Friendship Gathering
Cloverdale Community League (9411 97 Ave, Edmonton)
Sharing and reflecting on our collective stories at Canada 150+. Join us for a day of building friendships and community in Edmonton across backgrounds, difference and ability. Together let's reflect on Canada's history with honesty and create a shared vision for Canada's future. #yegfriendshipgathering
Admission is FREE & ACCESSIBLE to all!
Activities will include:
KAIROS Blanket Exercise
Circle Dialogues
Workshops
Food from diverse communities
Teachings from Elders and Knowledge Keepers
Music and Performances
Thought Provoking Speakers
Art Activities
Children's Activities
For more information: info@jhcentre.org or 780-453-2638
Partners:
The Edmonton Native Healing Centre
Edmonton Mennonite Centre for Newcomers
City of Edmonton
John Humphrey Centre for Peace and Human Rights – Righting Relations
REACH
MIGRANTE
Mennonite Central Committee – Alberta
www.kairoscanada.org/friendships
---
We acknowledge the financial support of the Government of Canada.