Indigenous youth
---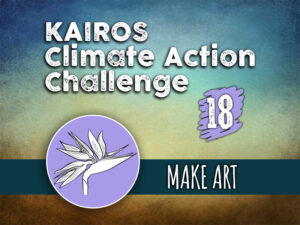 There are some incredible Indigenous youth rising up and using their voices to address the climate crisis. In 2018, Autumn Peltier, member of Wikwemikong Unceded First Nation on Manitoulin Island, stood before the UN General Assembly and told the world to "warrior up" and take a stand for the planet. Ta'Kaiya Blaney, member of Tla'amin First Nation from Salish Sea in British Columbia, has been raising awareness through word and song, about the destruction of her lands and traditional resources since the age of eight.
Beze Gray and Vanessa Gray, Anishnaabe land/water protectors from Aamjiwnaang First Nation have devoted their lives to protecting their community in southern Ontario's Chemical Valley. They founded Aamjiwnaang & Sarnia Against Pipelines, a collective of Anishinaabe land defenders that uses nonviolent direct action and education to raise awareness about environmental injustice.
Beze is also one of seven young people suing the Ontario government for weakening the province's 2030 climate target. The applicants in the case, called #GENClimateAction, range in age from 13 to 25 and are taking action because they know they will bear the costs of climate inaction more than previous generations. Other Indigenous youth represented in this case include Shaelyn Wabegijig and Shelby Gagnon.
When asked why they are taking Ontario to court for weakening its climate targets, Beze says, "I know the impacts of big corporations on the land and people, what happens to the land, happens to the people. When I think about the future, I feel scared about how climate change will impact my community's way of practicing our culture, teachings and our health. We need to hold the Ontario government accountable for upholding treaties and higher standards for the land and future."
Today we recognize and give gratitude for the words and power of these and so many other young Indigenous people who are leaders in the climate movement.
TODAY'S RESOURCE
Today's resources offer a deep dive into the work and stories of Indigenous youth on the frontlines of climate justice:
---
TODAY'S ACTION
As we prepare for the Global Day of Climate Action next Friday (September 25), we thought today would be a good opportunity to make some art. Grab your paints and brushes, your banners and sharpies! Global Climate Strike says it best:
Art is a powerful way we can continue to build connections, engage people, tell our stories, and demand change while the pandemic continues.
Check out this art kit from Global Climate Strike: https://globalclimatestrike.net/art/ and let your creative juices flow!
---