The Arctic – the Inuit
---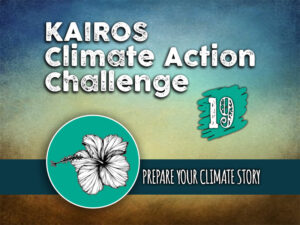 Today we look to the north to share the experiences of the Inuit, who are facing climate change most acutely. At the end of July, the last intact ice shelf in Canada collapsed. Located on the northwestern coast of Ellesmere Island in Nunavut, the Milne Ice Shelf is about 4,000 years old. Satellite images from Environment and Climate Change Canada captured the collapse. The Canadian Ice Service, the leading authority for ice and iceberg information in Canada's navigable waters, attributes the collapse to "above normal air temperatures, offshore winds and open water in front of the ice shelf."
Meteorologists and scientists have been studying the impacts of global warming in the Arctic and Antarctic for decades. Their research has been invaluable in understanding how changes to the Earth's ice cover will impact the planet as whole. However, scientific research can only get us so far and Inuit observations about the changes they are seeing on the land are adding a rich layer to our understanding of climate change in the Arctic.
The Nunavut Climate Change Centre works to incorporate Inuit traditional knowledge (or Inuit Qaujimajatiqangit) with western science. According to the Centre, "Inuit Qaujimajatuqangit, the system of Inuit traditional knowledge and social values, is based on a long and close relationship with the land and environment. It gives us rich and detailed insight into climate change and adaptation, as well as context to help understand how climate change will impact Inuit culture, communities, and individuals."
Today we listen to the stories and experiences of Inuit communities and take steps to develop our own climate story.
TODAY'S RESOURCE
---
TODAY'S ACTION
Prepare your climate story. An important tool in communicating climate change effectively is to use stories and sharing our own personal story can be powerful. Learn more from the Climate Stories Project and use their online tool to prepare and share your own climate story. Here is a useful guide.
---