Thoughts and prayers go out to the families following road accident in Southwestern Ontario
---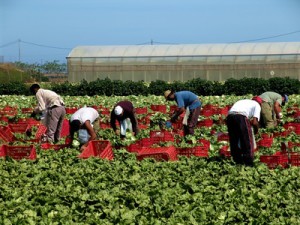 On the evening of Monday February 6, eleven people died as a result of a traffic accident near the community of Hampstead, ON when a truck collided with a van at an intersection.  The driver of the truck and 10 migrant workers who were in the van died. Three others were taken to hospital with life threatening injuries.  We pray for the quick recovery of the three survivors, and express our condolences to the families of the driver and of the migrant workers.
This tragic accident reminds us that more than 250,000 migrant workers come to Canada every year.  These workers—parents, brothers, sisters, sons, and daughters—labour far away from their families, often on a repeated basis. In Ontario alone, there are more than 20,000 migrants working in the agriculture sector each season. With no systems in place to monitor the working and living conditions of these workers, the health and safety of these workers is one of many concerns that must be addressed. This is not the first time a vehicular accident has claimed the lives of migrant workers. Similar accidents have occurred in Quebec and British Columbia.
As we mourn the loss of all of the victims, we commit to continued work for a more just future for migrants both in Canada and around the world.
People from all faiths are invited to come together for a special prayer service this Friday, February 10, 7-8 pm at St. Joseph Catholic Church, 96 Huron Street, Stratford, for those who died as a result of the traffic accident just north of Stratford and in support of their families who are mourning. The pastor, Rev. Richard Bester, will be joined by Most Rev. Ronald P. Fabbro, CSB, Bishop of London and other religious leaders.

Other news on the plight of Migrant Workers in Canada

http://www.ufcw.ca/index.php?option=com_content&view=article&id=2650%3Ain-wake-of-hampstead-tragedy-ufcw-canada-and-awa-set-up-migrant-workers-family-support-fund&catid=17%3Acampaigns&Itemid=348&lang=en
http://www.cbc.ca/news/canada/story/2012/02/07/f-migrant-workers-faq.html
http://www.theglobeandmail.com/news/national/ontario-crash-tragedy-sheds-light-on-plight-of-migrant-workers/article2330406/
http://www.stcatharinesstandard.ca/ArticleDisplay.aspx?e=3463809#.TzKRQT3aC8c.facebook