Appeal for famine relief in South Sudan
---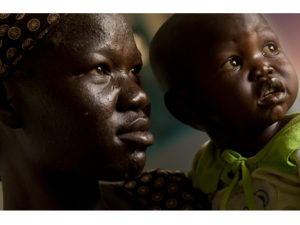 News about the impact of long term climate change – exacerbated by human- made famine and often compounded by cholera – in northeast Nigeria, Somalia, South Sudan and Yemen has become increasingly prominent.  In northeast Nigeria and Somalia, the disaffected youth of previous generations displaced by earlier climate change induced droughts have been recruited by extremist groups and are contributing to violence. In South Sudan and Yemen, the Western arms trade has exacerbated conflict.  South Sudan and northeast Nigeria are also dealing with the effects of climate change being amplified by a continuum of greed and grievance related to those who benefit most from fossil fuel extraction and complicated by ethnic and religious divisions.
Famine Response
Recently, several KAIROS member churches called on the Prime Minister to act on the human-made famine and conflict in South Sudan https://www.kairoscanada.org/call-action-regarding-human-made-famine-conflict-south-sudan.
The Canadian government has noted that "more than 20 million people in northeast Nigeria, Somalia, South Sudan and Yemen are at risk of starvation as a result of severe drought conditions or intensifying conflict.  In order to address this unprecedented humanitarian situation, Canada launched the Famine Relief Fund on May 29, 2017. For every eligible donation made by individuals to registered Canadian charities between March 17 and June 30, 2017, the Government of Canada will contribute an equivalent amount to the Famine Relief Fund."  You will find more information on this fund here: http://www.international.gc.ca/gac-amc/campaign-campagne/famine/index.aspx?lang=eng
While all KAIROS members are responding in various ways, the following are participating directly in particular appeals for famine relief in South Sudan that will match your contributions:
KAIROS Partner in South Sudan
Beyond the urgent humanitarian needs and responses, KAIROS supports and works with the National Women's Programme (NWP) of the South Sudan Council of Churches (SSCC) .  The NWP is also supported institutionally by the Fellowship of Christian Councils and Churches in the Great Lakes and Horn of Africa (FECCLAHA), an ecumenical KAIROS partner based in Nairobi.
If you would like to contribute to resolving the long term root or underlying issues around peace building and gender justice in South Sudan, and the work of the National Women's Programme of the South Sudan Council of Churches or other program areas of KAIROS work, please contribute at https://www.kairoscanada.org/donate/one-time-donation, phone 1-877-403-8933 x 226.
Background
The SSCC came into existence in 2013 with the independence of South Sudan and its split from the Sudan Council of Churches.  It is an ecumenical forum of South Sudanese Catholic and Protestant churches.  The mission of the NWP is to raise the voice of women, bridge the gender leadership gap in the society, strengthen women's skills and knowledge in peace building, and build their capacity to participate in decision making at all levels.  The NWP worked with United Nations Women after the December 2013 crisis to organize the women of faith national conference in July 2014 and facilitated NWP workshops on United Nations Security Council Resolution 1325 for church women in 2015 and 2016.  The United Nations Development Programme recently supported the NWP to celebrate the International Day of Peace in six states of South Sudan.
In this post-independence era, South Sudan's socio-economic development has been significantly hindered by episodic bouts of conflict and violence, largely ethnic/tribal in nature. From December 2013 through July 2016 in the capital of Juba alone, women have been disproportionately impacted by the conflict and unrest. Many have lost husbands and children and have been directly subject to killings, rape, torture, looting, robbery and destruction of property. The NWP is addressing the specter of women's suffering through the following programme components, building on substantive work in the greater Malakal area of Upper Nile State and Juba Country of Central Equatoria State.
Peace Building  
 The SSCC's NWP has designed a peace building plan based on data gathered on the ground in conflict areas in South Sudan. The Action Plan for Peace developed in Kigali, Rwanda in June 2015 by the SSCC, and supported by the World Council of Churches which has a 40 year history of supporting peace efforts in Sudan and South Sudan working with Sudan's and South Sudan's churches, has three pillars:
Advocacy: influencing the leaders of the conflicting parties and the Government of South Sudan to work more assiduously for peace, especially focusing on women leaders who are regarded as important agents for change.  This involves pushing for greater engagement of women's voices in formal peace making negotiations and peace keeping monitoring.
Creating safe spaces: making effective use of the churches' neutrality and natural orientation toward peace building to leverage the churches' affinity for truth-telling and promoting forgiveness and reconciliation among women through special events.   The NWP is finding ways to bring stakeholders together in a less politically charged atmosphere and to build bridges between them to overcome mistrust and disagreements.  Any successes in this process will be fed back into the subregional Intergovernmental Authority on Development (IGAD) negotiations.  The NWP recently established a National Women's Link for Peace which brings women together across ethnic divides to contribute to peace processes in South Sudan.
Reconciliation: building sustainable peace processes, led by women leaders from different ethnic/tribal groups while incorporating a strong justice orientation.   A political settlement is a necessary first step, but reconciliation at all levels is essential. The widely respected ecumenical Church is critical to authentic reconciliation.  Church women and their allies are pursuing reconciliation between aggrieved parties and, where necessary, incorporating existing mechanisms to retain what has already begun on the ground. To foster meaningful transformation, staff and intermediaries of the NWP model reconciliation as subjects of gender-based violence themselves through their words and actions.
Gender Justice
Approaches in this area include, but are not limited to, addressing issues of gender-based violence with a specific focus on violence against women, advocating for the rights of girls and women, and advocating for the formal education of girls.