Partners Tour to highlight violence against women in Colombia and in Canada
---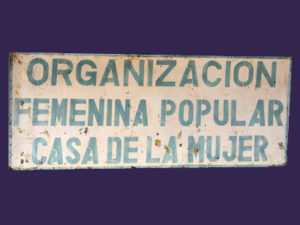 Gloria Amparo Suarez of the Organización Femenina Popular (OFP), a Colombian women's rights organization and KAIROS partner, will visit Canada from Nov 23 to Dec 4. The KAIROS sponsored educational tour is timed to include the 16 Days of Activism against Gender-Based violence Campaign, which starts November 25.
Nov 25 is the International Day for the Elimination of Violence against Women. Dec 10 is Human Rights Day. In between are the 16 Days of Activism against Gender-Based violence Campaign.
The aim is to use this important international moment for two objectives:
to highlight the work of the OFP in the context of the Colombia peace process and Canada's role in supporting women, peace and security in Colombia.
to make the links with violence against Indigenous women and impunity in Colombia and Canada, and provide international witness to Canada's National Inquiry into Missing and Murdered Indigenous Women and Girls (MMIWG).
In Canada we are organizing the tour with ally organizations  working on Colombia issues, women, peace and security, Indigenous rights and MMIWG.  The tentative itinerary includes travel to Ontario and Quebec.  In addition to meetings and public events in Toronto, Ottawa and Montreal, we hope to accompany the OFP representative to meet with Indigenous partners in their communities.  Meetings will also be requested with Members of Parliament, the Standing Committee on Foreign Affairs and International Development  and representatives of the Canadian government.
More to follow.