Not Lost in Translation … Facing Up to Canadian Mining
---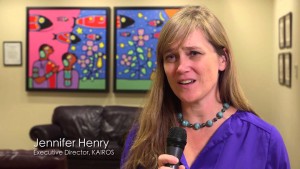 Miguel's words were polite but very direct.  He said them through a translator but the meaning was crystal clear: "Do you know that the mining companies affecting us in Latin America are Canadian?"
Miguel is an Indigenous leader from Guatemala, but earlier in the week Romanian church representatives were talking about the damaging impact of Canadian mining in a bible study on the prophet Amos. And then there was a Bishop from the Democratic Republic of Congo, and friends from the Philippines, and so on…
The extractive industry is the face of Canada, and our colleagues in the global ecumenical movement want to know how we will work with them to hold these companies to account for human rights violations and ecological harm.
This challenge, even when said gently, is hard to hear. I am deeply grateful for the work we have done together to date, as well as for the work to come. I am able to talk about the many resolutions that address mining from our member churches, about the ecumenical mining conference hosted in Canada in 2009, about our mining video, and about education and campaigns. I can speak with confidence about the recent launch of Open for Justice, a campaign to provide people harmed by Canadian mining with access to justice through an Ombudsman and Canadian civil courts. (This campaign was launched by the Canadian Network on Corporate Accountability, and KAIROS will be launching the action on our website later this week). I can invite people to our workshop here in Busan, planned collaboratively with many of our global partners. I can say these things because of the commitment of Canadian church people working with others in the social movements, and it helps, but it never feels like quite enough.
In the Christian tradition we speak of being one body in Christ. When one part of the body hurts, we should all feel the wound. We may even think of the whole community, the whole of creation, as God's body, knowing that the wounds are deep. How can we come together as global movement to stop the harm, to heal, and to transform while holding one another accountable in mutuality and love? I will leave here with these conversations imprinted on my brain and heart as a reminder to help me, to help us, stay the course in our continued commitment to mining justice.
Because yes, Miguel, I do know.