Kathleen Wynne says the province will teach a new generation of students the truth about our shared history
---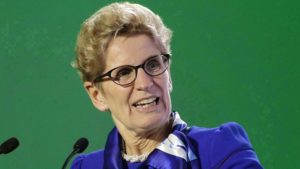 Originally posted on May 30, 2016 on CBC News
Kathleen Wynne officially apologizes to Indigenous communities for 'generations of abuse'
Ontario Regional Chief calls residential schools 'Canada's Apartheid,' welcomes apology from province
Premier Kathleen Wynne officially apologizes to Ontario's Indigenous communities for the decades of mistreatment and harm of First Nations, Metis and Inuit people.
Wynne gave the province's official response to last year's 381-page report from the Truth and Reconciliation Commission on the abuses suffered by residents in Indigenous communities. The report found that children were physically and sexually abused and died in numbers that would not have been tolerated in any school system.
Wynne said Ontario wants to acknowledge "one of the most shameful chapters in Canadian history," and said the province will teach a new generation of students the truth about our shared history.
She said residential schools set out to "take the Indian out of the child" by removing them from their homes and systematically stripping them of their languages, cultures laws and rights.
Ontario will spend $250 million over three years to help people understand the legacy of residential schools and to create what Wynne calls a culturally relevant and responsible justice system.
That investment will go toward 26 new initiatives as part of the release of a new report called "The Journey Together."
"Today, Ontario commits to working in partnership with Indigenous leaders and their communities to undertake 26 new initiatives that will help build trust and respect into our relationships, and build opportunity and security into the lives of Indigenous people," said Wynne in the Ontario Legislature Monday morning.
Wynne was joined at the news conference by Opposition Leader Patrick Brown, Ontario NDP Leader Andrea Horwath and Indigenous leaders on Monday morning in Toronto. Brown and Horwath also both apologized on behalf of their parties and the people of Ontario.
Wynne also said her government will introduce legislation Monday to name the first week of November "Treaties Recognition Week," and the Ministry of Aboriginal Affairs will be renamed Ministry of Indigenous Relations and Reconciliation.
Ontario Regional Chief Isadore Day spoke about the historical injustices against Indigenous people in Ontario while addressing the Ontario Legislature Monday morning, calling residential schools "Canada's Apartheid" and welcoming the apology from the province.
"Today we reclaim our rightful place in Ontario," said Day.
Margarey Froh, president of the Métis Nations of Ontario, and Natan Obed, president of Inuit Tapiriit Kanatami, also addressed the legislature.
The Truth and Reconciliation Commission's report, "Honouring the Truth, Reconciling for the Future," was released in December. It marked the culmination of thousands of hours of heart-wrenching testimony heard in more than 300 communities over six years.
More than 6,000 Indigenous women and men who were abused at residential schools told their stories during the hearings.
Earlier Monday, a sunrise ceremony was led by Indigenous elders Shelley Charles and Jim Dumont, along with a workshop open to the public focusing on the "history of the relationship between European settlers and Indigenous Peoples in Canada."
---
'Concerted effort to extinguish' culture
The Truth and Reconciliation Commission heard stories of children forcibly separated from their families, communities, language and culture who ended up suffering shocking rates of mental, physical and sexual abuse.
"Removed from their families and home communities, seven generations of aboriginal children were denied their identity through a systematic and concerted effort to extinguish their culture, language and spirit," commission chair Justice Murray Sinclair said in the final report.
In February, Ontario announced it would be introducing mandatory Indigenous cultural sensitivity and anti-racism training for all public service employees in response to recommendations from the commission.
The province also announced it would develop a plan to ensure that the impact of residential schools, the history of colonization and the importance of treaties are added to the curriculum in Ontario's public schools.
Sunrise ceremony this morning marks the start of a "historic day" in the province. Premier to respond to#trcreport
With files from Susana Mas, Tim Fontaine and The Canadian Press