KAIROS welcomes the Canadian government's renewed commitment to women peace builders
---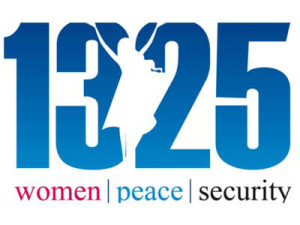 KAIROS welcomes the Canadian government's response to the report of the Standing Committee on Foreign Affairs and International Development (FAAE), which reaffirms the critical role of women and women's rights organizations in peace building.
In tabling the government's response on February 7, International Development Minister Marie-Claude Bibeau said: "Canada believes women are powerful agents of change and have the right to be full participants and influencers in peace and security operations. Achieving gender equality requires transforming unequal power relations and challenging social norms and gender stereotypes that limit opportunities for women and limit the full potential for a better world."
KAIROS agrees that the women, peace and security agenda is truly transformative and will achieve long-lasting gains for societies emerging from conflict.  We are particularly encouraged that the government "considers civil society organizations at the local grassroots level important partners and stakeholders in advancing the rights of women and girls in conflict-affected settings."
The case to support the women, peace and security agenda is compelling.  At KAIROS we have seen first-hand how women's organizations use human rights and advocacy training to empower victims of conflict to carry out the critical groundwork necessary for long-term peace. These organizations are effective because they respond to the local context and accompany survivors in the midst of ongoing and changing conflict. Studies show that peace processes involving the full and equitable participation of women and men are more likely to lead to lasting peace.
Partnering with Canadian civil society groups is an efficient and effective way for the Government of Canada to reach the poorest and most vulnerable in fragile or conflict-affected states.  Groups like KAIROS that work in collaboration with international partners have a critical role to play in bringing grassroots women's rights partners together from different regions and countries to share experiences and strategies and to build capacity.
What is needed now is increased and sustained investment by the Government of Canada in this work.  The government's response stops short of announcing new funding to take action on the Standing Committee's recommendations 13 and 14 to "allocate at least 15 percent of the international assistance it provides for peace and security programming to projects that have gender equality and women's empowerment as their primary objective," and "provide development assistance on a multi-year basis and for core operations to civil society organizations – including at the grassroots level – that are working to implement the women, peace and security agenda in conflict-affected and fragile states."
KAIROS looks forward to participating in the development of the Canadian National Action Plan (C-NAP) on women, peace and security and playing an active role in the "high level event on WPS in 2017" that is mentioned in the report.
KAIROS will look towards the 2017 federal budget and the launch of Canada's new international assistance policy framework for further demonstration of the Government of Canada's commitment to follow through with this vital agenda.