KAIROS presented as a witness on Women, Peace and Security: Women peacebuilders need our support
---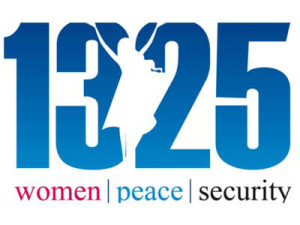 Provide more financial support for women's rights organizations and grassroots civil society organizations for peace-building efforts. This was one of three recommendations made by Ian Thomson, KAIROS' Africa Partnership Coordinator to the Parliamentary Standing Committee on Foreign Affairs and International Development (FAAE) on April 12 in Ottawa.
KAIROS presented as a witness on Women, Peace and Security (WPS).
"Despite recent research that proves that women's organizations and movements have been key drivers in defending human rights and promoting peace all over the world, the resources they receive worldwide are shamefully scarce and declining," wrote Thomson in an opinion piece that appeared in the Hill Times on April 13.

"Peace-building processes are often dominated by men's voices and experiences. From 1992 to 2011, only two percent of chief mediators and nine percent of negotiators in peace processes were women. At the same time, studies show that peace processes that involve women are not only more equitable and inclusive, they are also more sustainable."
During the meeting, Thomson highlighted KAIROS' Women of Courage program, specifying the work of our partners in Colombia, the Democratic Republic of Congo, Israel/Palestine, the Philippines, and South Sudan.
KAIROS' other recommendations for the Canadian government were:
Consult and collaborate with women's rights organizations and their international partners on its policy development and programming around WPS issues.
Expand its National Action Plan on Women, Peace and Security to serve as a strategic vision of how Canada will implement and strengthen its international commitments around WPS, and to facilitate reporting on financial commitments, activities, gaps, and progress to date.
KAIROS joined four other organizations that briefed the committee: MATCH International Women's Fund, Nobel Women's Initiative, Women, Peace and Security Network – Canada, and Inter Pares.
Read the full brief / Lire la mémoire au complet