KAIROS Joins the Government of Canada in Marking the 5th Anniversary of the Endorsement of UNDRIP and Urges its Implementation
---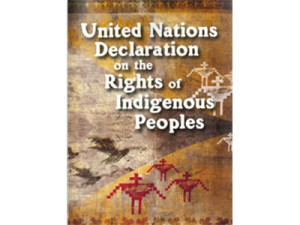 KAIROS wants to acknowledge that the Government of Canada and the Hon. Carolyn Bennett, Minister of Indigenous and Northern Affairs, has just celebrated the fifth anniversary of Canada's endorsement of the United Nations Declaration on the Rights of Indigenous Peoples (UNDRIP) and is committed to its implementation. (read article)
KAIROS and its member Canadian churches and religious organization has been committed to the Canada's endorsement and subsequent implementation of UNDRIP in a long struggle over many years. Illustrative of that effort was a massive Roll with the Declaration event on Parliament Hill on June 20, 2011. During that event, Ellen Gabriel, a Mohawk from the Turtle Clan, Longhouse from Kanehsatà:ke said:
"It is important [that] education on the UNDRIP be mandatory [for] all federal and provincial government officials, especially the Prime Minister of Canada, Canadian institutions like human rights commissions, secondary and primary schools be informed on the instruments that deal with the collective rights of Indigenous peoples." (read speech)
While it is inherently good that the Government of Canada celebrates the 5th anniversary of its endorsement of UNDRIP and is committed to its implementation, it behooves all Canadians to actively and vigorously monitor and facilitate progress in that regard.
For more information contact: Ed Bianchi, Program Manager, ebianchi@kairoscanada.org