KAIROS calls for just peace amidst escalating violence in Israel/Palestine
---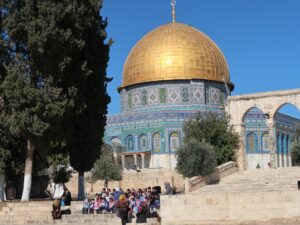 KAIROS is extremely concerned about the escalation of violence in Israel and Palestine and deeply saddened by the loss of life. KAIROS stands in solidarity with our partners in Palestine and in Israel and offers prayers to those experiencing extreme suffering.
KAIROS laments the assault of worshippers in the Al Aqsa mosque by Israeli forces, the violent clashes following eminent forcible evictions of Palestinian families from Sheikh Jarrah and Silwan neighborhoods in East Jerusalem, and the subsequent accelerating violence and hostilities in Gaza, Israel and the West Bank that have resulted in both Israeli and Palestinian casualties, including children.
Acts against civilians have occurred on both sides. Extensive damage is reported to residential and commercial buildings as well as to schools. The escalation risks worsening an already poor humanitarian situation in Occupied Palestinian Territories, especially in Gaza, where the struggling health sector is further burdened by the COVID-19 pandemic.
This situation is indefensible. Justice and equality cannot be achieved in conditions of constant violence and oppression of occupation. We urge all sides to protect all civilians, and for them to abide by their obligations under international humanitarian law and basic human rights law.
KAIROS, member churches and church agencies and networks recently urged the Canadian government to take action against forced evictions of Palestinians in East Jerusalem. In response, Global Affairs Canada issued a statement of concern calling for de-escalation of tensions. We continue to call upon Canada and the international community to intervene to put a stop to the aggravating tensions that risk further destabilizing the volatile situation in the region. The de-escalation of violence alone will not achieve peace nor security for Israel and Palestine.  It requires decisive international action to end Israel's illegal occupation of the Palestinian Territories and related human rights violations.