KAIROS calls on Canada to bring Christmas cheer to foreign caregivers
---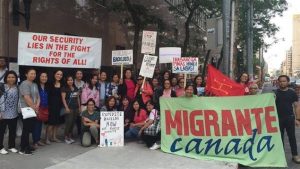 KAIROS supports foreign caregivers across Canada who continue to suffer prolonged separation from their spouses and children due to the long delay in processing their permanent residency applications. Many have been waiting for seven or eight years. KAIROS' support was expressed in a submission to the federal Government Review of the Temporary Foreign Worker Program in 2016 (see document below).
On December 16, the Toronto Star published an article highlighting the impact of this prolonged wait on four women and their families.
The article was in response to Immigration, Refugees and Citizenship Minister Ahmed Hussen's announcement on December 3 promising an eighty percent reduction in the backlog of approximately 23,000 applications by October 2018. This promise has been made several times since 2016. The caregivers and their families have suffered enough and cannot endure another year of waiting.
KAIROS joins the caregivers in calling for an end to prolonged family separation by addressing the backlog now and not waiting until October 2018.
As an expression of solidarity and action, we ask that you please write letters to your MPs and sign the petition calling for an end to the permanent residency application backlog.
---
All the caregivers and their families want for Christmas is to be together, reunited with each other, and celebrating Christmas as a family.
---