How the Law Constructs Migrant Workers' Insecurity
---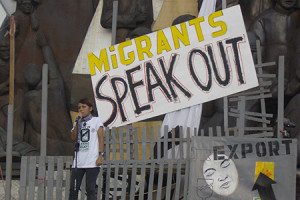 KAIROS welcomes the Metcalf Foundation's new report "Made in Canada; How the Law Constructs Migrant Workers' Insecurity", written by Toronto lawyer Fay Faraday and released on September 17, 2012. While the report focuses on migrant workers in Ontario, it offers a number of recommendations which, if implemented, would greatly improve the working and living conditions of migrant workers across the country by, among other things, ensuring that their labour and human rights are protected.
Based on federal and provincial government statistics, the report notes that the number of temporary foreign workers in Canada has more than tripled in the past decade, and highlights the fact that low-wage migrant workers are brought into Canada on terms and conditions that leave them open to exploitation and that make it difficult to enforce their basic rights to decent work.
While the work of community advocates across Canada has focused mostly on live-in caregivers and agricultural workers, low-wage migrant workers also labour in hotels, restaurants, food processing plants, and on construction sites. In its report the Metcalf foundation argues that these migrant workers are frequently underpaid, overworked, and denied fundamental rights, including rights to decent housing, health care and safe working conditions.
"Since migrant workers don't enjoy the same legal status and protections as permanent residents, they are at higher risk of abuse by employers who take advantage of their vulnerability," says the report's author Fay Faraday, Metcalf Innovation Fellow, and respected constitutional, labour, and human rights lawyer.
Click on the link to read the full report:
http://metcalffoundation.com/publications-resources/view/made-in-canada/
For more information, contact Migrant Justice and Indigenous Rights Program Coordinator, Alfredo Barahona at abarahona@kairoscanada.org or 416-463-5312/1-800-877-403-8933 x 251.