The Harvesting Freedom Caravan is coming to Toronto on September 25, 2016 at 7:30 a.m.
---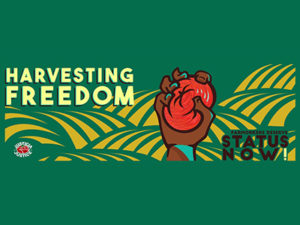 If you want to support migrant justice please come to the Food Terminal in Toronto at 7:30 AM on Sunday, September 25 and welcome the Harvesting Freedom Caravan. Yes, you read right, it is at 7:30 AM! But don't worry, there will be coffee and pancakes. Hope to see you there.
The Harvesting Freedom Caravan is organized by Justicia for Migrant Workers (J4MW) to mark the 50th Anniversary of the Seasonal Agricultural Workers Program (SAWP).  Through this campaign migrant works are asking the Canadian government to grant permanent residence status to migrant farm workers in Canada. As the campaign organizers say, these are "the same workers who have been putting food on your table year after year!"
The Harvesting Freedom Caravan started in Leamington, Ontario on September 4 and is traveling to its final destination in Ottawa on October 2. The caravan, which includes migrant workers and allies, is stopping for solidarity actions in towns along the route in southern Ontario. I met the caravan when it stopped in Langford, ON, near Brantford and witnessed a community meal, a screening of the film "Migrant Dreams", and passionate dialogue between Caribbean migrant farm workers, farmers and community members, including KAIROS local members, who support migrant workers.
On Sunday, September 25  it will be Toronto's turn to welcome the caravan. Please come to the Ontario Food Terminal to help raise awareness and put pressure on the Government of Canada to bring justice to the tens of thousands of farm workers who have put food on Canadian tables for the last 50 years without any chance to put down roots in Canadian soil.
The Seasonal Agricultural Workers Program (SAWP) is a labour-migration program that has brought tens of thousands of Caribbean and Mexican migrant farm workers to Canada. Migrant work permits are tied to a single employer. Workers can be sent home by their employers at any time. They have no access to Permanent Residency status, and must return home after their contracts end, regardless of how many years they have worked in Canada. The SAWP has supported Canada's agricultural industry for half a century. It is not a "temporary migration program", is very much a permanent part of the Canadian agricultural industry and communities.
For more info and details visit: https://harvestingfreedom.org/join-the-caravan/