Family Separation Affects Children of Migrant Workers in Canada and Around the World.
---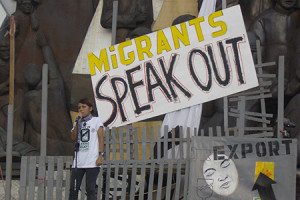 Family separation is one issue being explored at the United Nations in New York, October 1-5, as migrants and their allies converge to discuss how to help decision-makers understand that justice must be part of any discussion on migration issues.
Connie Sorio is at the UN on behalf of KAIROS. She's with more than 90 delegates from around the world who are participating in the 4th Churches Witnessing with Migrants (CWWM) consultation. Connie joins other Canadian church representatives, including Rev. Michael Blair and Khwaka Kukubo of the United Church of Canada, Rev. Stuart Leyster from the BC Conference of the United Church, and Bern Jagunos, a retired UCC staff member. On the first day, KAIROS' ongoing work in helping to organize the CWWM was publicly acknowledged!
Also at the gathering are partners and delegates from the World Council of Churches (WCC), the Latin American Council of Churches (CLAI), the All Africa Council of Churches (AACC), the Mennonite Central Committee-USA, and descendants of the ex-Braceros from Mexico [1].
This gathering is part of a series of events that include the UN High Level Dialogue on Migration and Deployment and the 4th International Assembly of Migrant and Refugees.
Migrant worker and grassroots organizations such as KAIROS partner MIGRANTE Canada, a member of the International Migrants Alliance (IMA), have asked churches to "take their hand and walk with them". The CWWM is a unique opportunity for KAIROS and the churches to hear directly from migrant workers what is the best way to do this.  Often, it is only through KAIROS and other church allies that migrant workers can have their voices heard at events such as the UN High Level Dialogue on Migration. KAIROS and church allies also help to protect the rights of migrant workers and their families.
In Canada, at least 400,000 temporary migrant workers enter the country every year[2]. Many of these workers are separated from their spouses and children for months or years.
One example of the impact of migration on migrant workers families is 14 year old, US-born Saul Arellano, who said in an interview with Voice of America, "It's been 10 painful years … because many families are being separated, and that is not fair". Saul's mother was deported to Mexico in 2007.
---
[1] "Braceros" was the term used to identify Mexican "guest" workers in the Unites States in the first half of the 20th century.