Educación para la reconciliación: el ejercicio de la manta indígena
---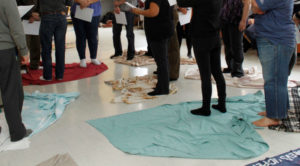 Radio Canadá Internacional entrevistó a Alfredo Barahona sobre uno de los talleres de KAIROS. Alfredo explica que el taller es pedagógico e interactivo y que promueve un mejor entendimiento de las relaciones históricas y contemporáneas entre los pueblos indígenas y la población canadiense en general. El ejercicio  te lleva en un viaje a través de la historia que hasta hoy, ha sido ocultada a la mayoría de la población Canadiense y nuevos inmigrantes.
KAIROS presentará el taller Educación para la Reconciliación: La historia Oculta de los Pueblos Indígenas en Canada, en Montreal como parte del Foro Social Mundial. El taller se realizara el Miércoles 10 de Agosto de 1:00 a 3:30 pm en el Cegép du Vieux Montréal, salón 860 en el 255 Rue Ontario E.
¡Esperamos verte en Montreal!
---
In this interview with Radio Canada International, KAIROS' Alfredo Barahona talks about facilitating the KAIROS Blanket Exercise in Spanish. Educational and interactive, the KAIROS Blanket Exercise (KBE) promotes a better understanding of the historical and contemporary relationship between Indigenous peoples and the general Canadian population. The KBE takes you on a journey through parts of our shared history which until recently has been hidden from most Canadians and new immigrants.
Alfredo will facilitate the KAIROS Blanket Exercise in Spanish in Montreal at the World Social Forum on Wednesday, August 10 from 1:00 to 3:30 pm at the Cégep du Vieux Montréal, room 860 located at 255 Rue Ontario E.
We hope to see you in Montreal!