Ecumenical Call to stop the demolition of Khan al Ahmar
---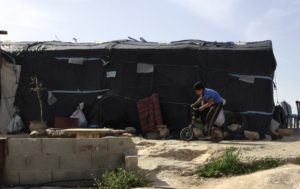 "By silence and inaction, governments have become complicit in this violation of international law…"
KAIROS joins fifteen international faith-based, civil society, and human rights organizations from around the world in collectively calling on our governments to take action to stop the demolition of Khan al-Ahmar and to denounce this potential war crime. From Australia, Canada, New Zealand, Scotland, and the USA, we are urging our governments to call on the Israeli government to reverse its decisions to demolish the village of Khan al-Ahmar and to forcibly evict its residents before it is too late.
 "Unless the world takes immediate action to uphold international law and hold the Government of Israel accountable for its actions, the Israeli authorities will carry out a demolition order on the entire village of Khan al-Ahmar, including Palestinian homes and the local school, and will forcibly displace the entire population of the village."
The demolition order is part of a broader, troubling trend in which the Government of Israel is systematically demolishing structures and displacing Palestinians in Area C to allow for the expansion of Israeli settlements and, potentially, the full annexation of Area C.
"By silence and inaction, governments have become complicit in this violation of international law, and by extension, make all of us who elected them into office complicit. We trust that when members of the G7 claimed to be committed to holding accountable those who violate international humanitarian law, that they meant every state and every non-state actor, without exception. This is an opportunity to live up to this commitment, declared less than two months ago."
KAIROS and the other organizations that issued this joint statement have partnered with Palestinian and Israeli faith-based and human rights organizations for decades. This statement, addressed to our  respective governments, arises from our common solidarity with Palestinians and Israelis working toward a just peace.