Join thousands across Canada, and around the world, in the Global Climate March on November 29, 2015
---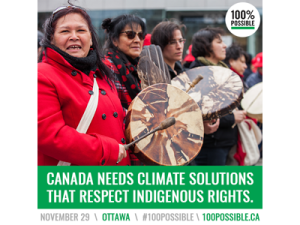 We are less than one month away from the Global Climate March. On November 29, the eve of the UN climate summit in Paris, we plan on sending a clear message to our newly elected government that climate action is a top priority for Canadians.
The science is clear: we can solve climate change in our lifetimes, by "decarbonizing" our economies, quickly. The economics is also clear that transitioning to 100% clean and renewable energy won't even cost us prosperity or jobs. Most importantly, we know that creating a more caring, equitable world is possible by taking climate action now. Let's make this the biggest climate action our country has ever seen, and send a message our new government can't ignore.
Join us on Sunday, November 29:
* In the nation's capital, KAIROS is sponsoring the 100% Possible march to Parliament Hill. Visit the website for details: http://www.100possible.ca/ Need help getting to Ottawa? You can get on the buses coming from Montreal, Toronto and other nearby cities.
* For those of you who cannot be in Ottawa, find out what's happening closer to home through the Global Climate March website: http://globalclimatemarch.org/en/
* Bring the climate march into your worship service. Several KAIROS communities will be offering prayers for climate action in their churches with new worship resources available from Citizens for Public Justice: http://cpj.ca/climate
For more information, contact:  Ian Thomson, Partnerships Coordinator, Resources and Rights, ithomson@kairoscanada.org, 613-235-9956 ext 222