Climate Justice = Migrant Justice
---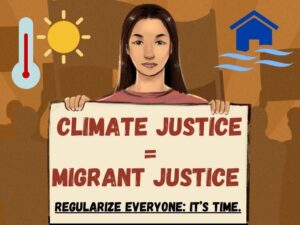 Migrant rights are key to climate justice. We know that the people who have contributed the least to the climate crisis are the most impacted by it. As the impacts of the climate crisis escalate, those who contributed the least to the crisis will need to migrate and move to safety.
"The UN International Organization for Migration has cited estimates of as many as 1 billion environmental migrants in the next 30 years, while more recent projections point to 1.2 billion by 2050, and 1.4 billion by 2060."

According to Gaia Vince for the Guardian,
Climate-driven movement is already underway. Rampant floods and raging wildfires that occurred over the last couple of months have driven people from their homes and livelihoods around the world and close to home. Indigenous communities and migrant workers have been particularly impacted by the intense wildfires in western Canada.
According to the Migrant Rights Network, over 600 migrant farmworkers were displaced in the Okanagan Valley of British Columbia. Some employers were refusing to provide income support to displaced workers while other workers were moved to new employers that forced them to work in poor air quality and temperature conditions. Migrant workers have no protection during extreme weather events. They do not speak up for fear of reprisal and deportation.
"Human movement caused by climate change is not a crisis – it's a symptom of other, very real and interconnected, crises: of capitalism and colonialism."

According to the Joint Council for the Welfare of Immigrants in the UK
Indigenous peoples, peasants and small-scale farmers, women and children, and communities living in poverty are disproportionately impacted by these intersecting global crises.
Migrants need protection from these systems of oppression. Without permanent resident status, undocumented people are unable to assert rights at work or access basic healthcare. Regularization should be considered a minimum floor of rights whereby when any group is excluded, the overall economy suffers. The Migrant Rights Network has outlined a comprehensive and inclusive Regularization Program Proposal. Read the Regularization in Canada – Policy Brief.
On September 17, 2023, the day before Parliament returns, the Migrant Rights Network is urging groups and organizations across the country to coordinate actions to call for permanent resident status for all. Join KAIROS on this day of action as we advocate for the rights of migrants!
---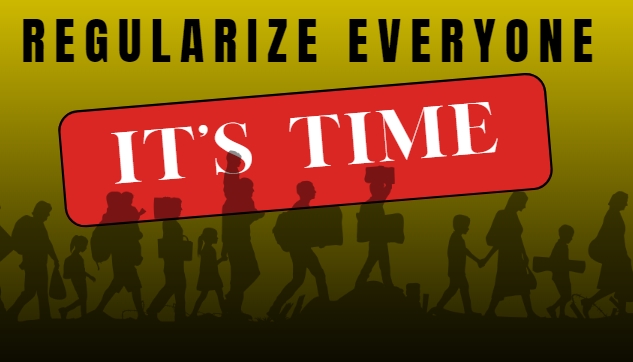 Regularize Everyone: It's time.
Sunday, September 17
Multiple Locations
Bills are skyrocketing, rent is beyond reach, forests are ablaze, and healthcare is being privatized. We are in the midst of an inequality crisis. Migrants who grow the food, care for the sick, build the homes, and keep us going bear some of the heaviest burdens. Lack of permanent resident status leaves them without basic rights and protections; yet without these workers, society would grind to a halt. Combating climate change and ending the affordability crisis also requires regularizing all undocumented people. Achieving justice and equality for all requires permanent resident status for all. Join the day of action on Sunday, September 17!