Announcing… a KAIROS Blanket Exercise Youth Exchange with Guatemala
---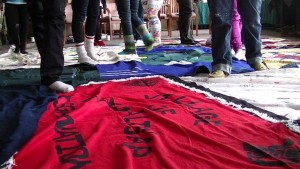 KAIROS will take 2 First Nations, 2 Métis, 2 Inuk and 2 settler youth (18-30 years old) to Guatemala in May 2017 and facilitate 2 Guatemalan youth coming to Canada in June 2017 to find common ground across borders through sharing their stories.  In Canada, KAIROS will work with the Indigenous youth to integrate their perspectives and personal histories into the KAIROS Blanket Exercise (KBE) while in Guatemalan the youth will be coached in telling their own colonial history through the same framework. This exchange will expand the reach of the KBE as an effective tool to learn the history of colonization and the resilience of Indigenous peoples in both countries.
Naty Atz and Ana Guadalupe Matzir, both members of CEIBA, our long-time partner in Guatemala, participated in Canada's Truth and Reconciliation Commission.  This experience revealed common elements of colonial oppression.  The youth participants will explore this commonality as well as create international solidarity for Indigenous rights.
We have seen how the KBE empowers people, especially facilitators, and creates strong relationships.  This exchange will build on the positive impact of the KBE by giving youth a voice and the tools to share their history. It will give participants the chance to see their own experience of colonization and resistance in a larger international context and build lasting cross-cultural connections.