WPS African partner brings WPS program to life at the South-South Exchange in Nairobi
---
We are in Kenya and South Sudan for the KAIROS Women of Courage Women Peace and Security (WPS) program South-South Exchange. This exchange is between KAIROS partners, Heritiers de la Justice (HJ) from the Democratic Republic of the Congo (DRC) and South Sudan Council of Churches (SSCC) from South Sudan. The first week wrapped up in Nairobi, Kenya on July 22.
During the South-South Exchange, we hope to strengthen relationships, explore collective strategies to amplify the voices of change and impacts of the program, and support the sustainability of women-led initiatives in respective regions in the DRC and South Sudan.
In a context of evolving dynamics and emerging issues, the partners have shared similar concerns related to conflict and post conflict situations, gender-based violence, climate change and the intersecting violence and marginalization of women and girls. They spoke at length of children born of conflict-related violence who are facing numerous problems tied to their identity, including stigmatization, marginalization and isolation. The partners have spoken about prioritizing economic empowerment of women, in addition to strategies and visions for providing long term psychosocial support for women victims of violence beyond initial contact.
Bringing the work and context of Heritiers de la Justice in DRC to Nairobi
Though we were unable to visit Bukavu, DRC for the first week of the South-South Exchange as planned due to security concerns, HJ brought their program to life, sharing their vision, stories of change and hopes for the future for the communities that they work with, including the ultimate cessation of all forms of conflict and violence in the DRC.
Established in October 1992 in South Kivu, Héritiers de la Justice has been working with the vision of a peaceful society where justice is enhanced for victims of human rights violations. Through the KAIROS WPS program, HJ provides legal assistance, psychosocial support and accompaniment, training on women, peace and security and human rights. These programs are provided free of charge.
When asked to share their program interventions on issues such as health and legal assistance and referrals for victims of violence, HJ explained that they accompany victims of rape and gender-based violence in judicial and psycho-medical care. Back in their communities, victims of sexual violence still feel they are unable to integrate into the community because of stigma, and the lack of financial means to support themselves.
One success story is HJ's pilot program peace clubs in some schools through which young people learn peacebuilding leadership and are sensitized on gender equality and equity. As a result, HJ reported that more girls are attending universities and other vocational schools with the support of HJ and the church networks with which HJ collaborates. HJ highlighted that one of the biggest impacts of the WPS program has been the improved confidence and self-esteem of the women participants. Participants stop viewing themselves as just victims of gender-based violence, but as important players in their homes and communities. They are sharing these collective learnings and standing up for their rights.
| | | |
| --- | --- | --- |
| | | "I received training from HJ and have now become a trainer myself. I am able to go to communities and carry out sensitization meetings. I gain the trust of the communities through sharing my personal experiences and that helps in making people comfortable enough to open up as well." |
Pelagie Assengo, another HJ program participant and trainer, shares these sentiments. She is using her skills to work in collaboration with political authorities in her area to organize peace seeking meetings. She also carries out advocacy and sensitization interventions with women and young girls on human rights, including the rights to land and property inheritance for women, and girls' rights to education.
A key concern for HJ and SSCC partners and the women with whom they work is women's economic disenfranchisement. Issues of poverty compound gender-based violence, and the impacts of the climate crisis further marginalizes women in the region. For these women, economic empowerment programs are a growing priority.
To respond, HJ has established training on income generating activities and is providing women with resources, including funds to rent farmland. Land is rarely allocated to women and is inaccessible in conflict areas. However, HJ finds space to rent land for them. HJ encourages the women to replicate the agricultural practices they learn on collective farms in their own farms if they have them.
HJ has developed a formula for their economic empowerment trainings, to motivate the participants:
Spelt out this means: women can start with zero funds but with strength, will and courage and overcoming shame, fear, and laziness, they can make money and become economically empowered individually and collectively.
These initiatives are helping the beneficiaries meet the needs of their families and are promoting their autonomy and rights. HJ reports that 60 percent of the survivors of violence have regained their self-confidence and are seeking access to basic social services, enabled by their improved livelihood resulting from HJ's economic empowerment projects. The living conditions of the families of the beneficiaries have improved by 55 percent.
HJ shared this testimony from one of its program participants:
| | | |
| --- | --- | --- |
| | | "When I had my fourth child, my husband did not have a job and my family lived a life of misery. Both my child and I fell ill with kwashiorkor due to extreme starvation and nutrients deficiency. We went to a community health centre for treatment, but it was a very painful experience for me and my whole family. After we got better, I told my husband that we should not continue to live that life. I joined other women who were already participating in HJ's programs, and they advised me to start small, to try earning an income to improve the life of my family. I conquered the shame and fear and started to harvest cassava leaves and bring them to market to sell. Some other women laughed at me, but I did not listen to them. This small income generating activity has helped me enroll my two children to school. If I had remained ashamed of my activity, I would not have achieved a good result." |
Meeting with Canadian High Commission in Nairobi
On the third day of the exchange, after sharing program work and priorities, the South-South delegation met with Janine Cocker, the Head of Cooperation at Canadian High Commission to Kenya. This meeting was crucial for KAIROS and our Africa partners to learn more about the work of the High Commission in the region, and to share information about our collective work, how to support and sustain this work and ongoing cooperation with the government of Canada on women-led women, peace and security, climate change and economic initiatives in Africa and globally.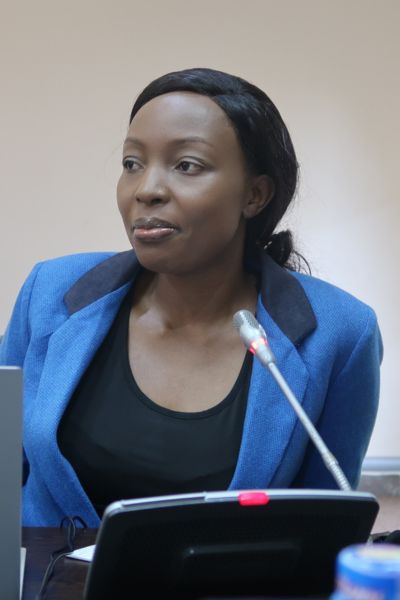 Meeting on Conflict, Climate and Gender
The delegation shared our program work in a meeting with Salome Owuonda, Executive Director of the Africa Centre for Sustainable and Inclusive Development, and researcher at Centre for Minority Rights Development (CEMIRIDE) in Kenya. CEMIRIDE's research on Participation of women in peacebuilding during drought and climate change-related conflict: The Case of the Endorois and Ilchamus Communities in Baringo County, Kenya was one of the winners of the Global Affairs Canada 2022 WPS Research Awards. One of our KAIROS WPS program partners, Organización Femenina Popular based in Colombia, was also one of the international recipients of the GAC 2022 WPS Civil Society Leadership Award. We had an engaging discussion on similarities in experiences of contexts and strategies of participatory peacebuilding, the nexus of conflict, climate change and gender, and equal and meaningful engagement of women in conflict resolution and peacebuilding in Kenya, DRC and South Sudan. On July 23, HJ partners and their counterparts from SSCC travelled to South Sudan for a week of exchange, hosted by the SSCC National Women's Program. Keep posted for updates from South Sudan!
---
Jane Thirikwa, Global Partnerships Coordinator at KAIROS Canada