Women's inheritance and land rights #16StoriesofCourage
---
| en français |
Across the global South, rural women suffer widespread gender-based discrimination in laws, customs and practices that cause severe inequalities in their ability to access, control, own and use land and limit their participation in decision-making at all levels of land governance. Fighting gender-based violence requires undoing norms that create social and political environments that contribute to this violence.  
Héritiers de la Justice (HJ) in the Democratic Republic of the Congo conducts training for paralegals and social workers on gender-based violence, to help combat violence against women in mostly rural communities. Advocating for the rights of women to property inheritance is helping to disrupt cultural practices that put women at a disadvantage and contributes to their disenfranchisement. Community-based initiatives, such as this one, are empowering women who otherwise face financial difficulties and challenges accessing justice systems located in major cities. 
"I was a victim of the violation of my rights to the inheritance left to me by my father. After taking part in an activity organized by HJ, I went to see the head of my village, with knowledge that the Congolese law stipulates the equality of children, girls and boys in matters of inheritance. The leader called my brothers and showed them the risk of being brought to justice. My brothers decided to also give me a piece of land that I now cultivate. I am proud of myself, and I encourage other women to not be silent about violations of their rights. I have also participated in workshops on peaceful resolution of conflict. I pledged to myself to fight the conflictual situation in my village. After some mediation held at my home that brought a peaceful environment between people of my village, the head of locality now often invites me to take part in security meetings. There are men in our village who accept my presence in such activities, but others do not and find this strange. I will not be discouraged. I will continue until they understand that a woman can also contribute to peace in her environment."

Mrs. Kusira de Kalehe
Receive timely updates and calls to action on KAIROS' Gender Justice and Women of Courage advocacy initiatives. Sign up and select Gender Justice under I am interested in. 
---
Héritage et droits fonciers des femmes 
Partout dans le monde en développement, les femmes rurales subissent une discrimination sexiste généralisée dans les lois, les coutumes et les pratiques, ce qui entraîne de graves inégalités dans leur capacité à accéder, contrôler, posséder et utiliser la terre et limite leur participation à la prise de décision à tous les niveaux de gouvernance foncière. Lutter contre la violence sexiste nécessite de défaire les normes qui créent des environnements sociaux et politiques qui contribuent à cette violence.
Heritiers de la Justice organise des formations pour les parajuristes et les travailleurs sociaux sur la violence basée sur le genre, pour aider à lutter contre la violence à l'égard des femmes dans les communautés principalement rurales. Défendre les droits des femmes à l'héritage de la propriété contribue à perturber les pratiques culturelles qui défavorisent les femmes et contribuent à leur privation de leurs droits. Des initiatives communautaires telles que celle-ci autonomisent ceux qui, autrement, sont confrontés à des difficultés financières et à des défis pour accéder aux systèmes de justice situés dans les grandes villes. 
 "J'ai été victime de la violation de mes droits à l'héritage que m'a laissé mon père. Après avoir participé à une activité organisée par HJ je suis allé voir le chef de mon village, sur la base de la loi congolaise qui stipule l'égalité des enfants, filles et garçons en matière d'héritage. Le chef a appelé mes frères et leur a montré le risque d'être traduit en justice. Mes frères ont décidé de me donner aussi une parcelle de terre que je cultive maintenant. Je suis fier de moi, et je encourager les autres femmes à ne pas taire les violations de leurs droits. J'ai également participé à des ateliers sur la résolution pacifique des conflits. Je me suis engagée à lutter contre la situation conflictuelle dans mon village. Après quelques médiations tenues chez moi et qui ont amené un climat de paix entre les gens de mon village, le chef de localité m'invite maintenant souvent à participer à des réunions de sécurité. Il y a des hommes dans notre village qui acceptent ma présence dans de telles activités, mais d'autres ne le font pas et trouvent cela étrange. Je ne serai pasdécouragé. Je continuerai jusqu'à ce qu'ils comprennent qu'une femme peut aussi contribuer à la paix dans son environnement."

Mme Kusira de Kalehe, RDC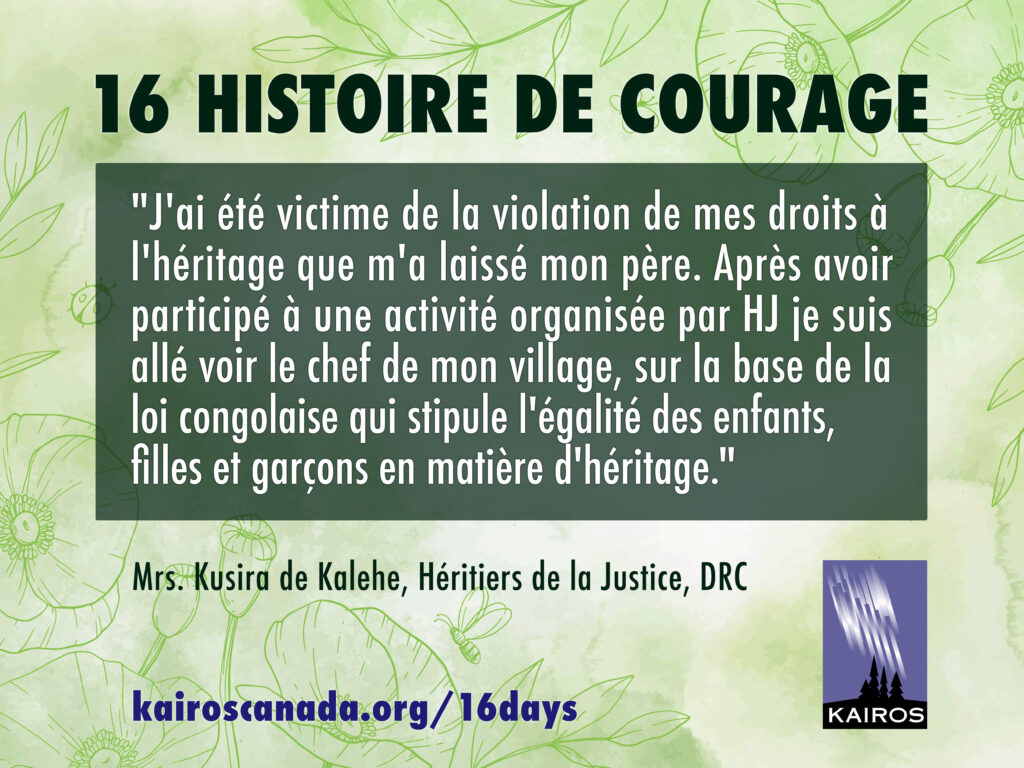 Recevez des mises à jour et des appels à l'action en temps opportun sur les initiatives de défense de la justice genre et de plaidoyer Femmes de Courage de KAIROS. Inscrivez-vous et sélectionnez Gender Justice sous Je suis intéressé.