Women peacebuilders lay groundwork for sustained transformational change
---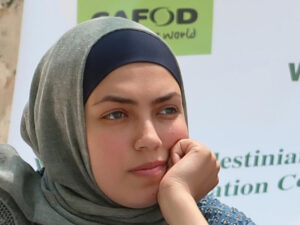 Located literally under the shadow of the West Bank wall in Bethlehem, Wi'am: Palestinian Conflict Transformation Centre offers women victims of gender-based oppression and violence just that—transformational change.  Wi'am—a partner of KAIROS Canada's Women of Courage, Women, Peace and Security (WPS) program—is one of four women-led grassroots organizations that offer similar support. The others are Organización Femenina Popular (Colombia), Héritiers de la Justice (Democratic Republic of the Congo), and South Sudan Council of Churches-National Women's Programme (SSCC-NWP). 
Often reserved and hesitant at the start of Wi'am's workshops, participants become more vocal and confident after a few sessions.
"I always taught my children to respect women, but I never taught them to listen to a woman before," said one participant, a mother of three. "But now, I know that my voice is important and that it should be listened to and respected within society." 
Wi'am, like other project partners offers women psychosocial support, legal accompaniment and counseling, as well as numerous workshops on gender-based violence, economic empowerment and human rights.
The WPS program began in 2018 when Global Affairs Canada injected $4.5 million over five years to support the partners' work. KAIROS—through its member churches and development agencies, religious communities and individual donors—contributes 25 percent of the funding. PWS&D, which has supported the program since the beginning, contributing $65,000 in 2020, and again in 2021.
The program is grounded in the evidence-based theory of change that women can become key voices in peace building processes when they are provided with opportunities to heal, restore self-esteem and claim their rights.
Since the program began, partners have noted greater confidence among participants, measured according to autonomy, communication, resilience and strength, connecting to other people, and ways of thinking, as well as positive change in relationship to power structures and rights advocacy.
For example, the SSCC-NWP holds a monthly, prayers for peace gathering that attracts hundreds of women. According to the organization, "most women who have participated…have courage to speak in public and have become a voice to their families. Some are able to influence male allies, especially the pastors from the churches, and many have the courage to speak to media outlets regarding the campaign for peace and justice."
Additionally, partners have reported increases in participant numbers, services delivered, and communities involved.
Because these organizations are part of the fabric of communities, they were able to respond immediately to COVID-19, reimagining and pivoting programs to address new challenges and vulnerabilities of marginalized communities. KAIROS' WPS partners have reported dramatic increases in gender-based domestic and state-driven violence since the beginning of the pandemic.
As women shoulder the brunt of the COVID-19 pandemic, the need for financial and diplomatic support for grassroots women-led organizations is needed now more than ever.
Marking the 20th anniversary of the UN Security Council's resolution 1325 on women, peace and security on October 30, 2020, Canada's Minister of Foreign Affairs announced $14.9 million in new funding for women peace-builders globally, with $5 million of that targeted at grassroots organizations.
While this announcement is welcome, Canada has a long way to go. The Canadian government's progressive Feminist International Assistance Policy (FIAP), announced in 2017, has been hamstrung by limited funding, evident in Canada's paltry official development assistance (ODA), which is well below the international standard of 0.7 percent of gross national income at 0.26 percent.
Presbyterians can help these organizations in two ways. The first is to support PWS&D's contribution to the WPS program, by visiting WeRespond.ca/donate.
The second is to urge the federal government to fully fund FIAP by increasing its overseas development assistance to closely match the international standard, and to ensure that this funding reaches grassroots women's rights and peacebuilding organizations by being flexible, predictable and long-term. This funding must also provide support as these organizations recover and transform efforts in response to the pandemic.
Presbyterians can lend their voice to this call by sending a letter to their Member of Parliament and relevant ministers.  
This support is vital, helping to empower women peacebuilders in their work to build more equitable, healthier, safer societies for everyone.
---
Written by Jane Thirikwa, Global Partnerships Coordinator, KAIROS Canada. Originally published in the Presbyterian Connection.