Women peace builders need our support. Opinion piece originally published in The Hill Times.
---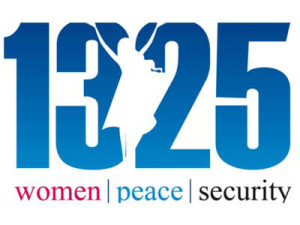 Opinion piece on Women, Peace and Security
Ian Thomson, KAIROS – April 2016
Canada's Prime Minister is a self-declared feminist.  Much ink has been spilled about the gender parity of his cabinet.  And two weeks ago at the UN Security Council, Canada's ambassador emphasized the crucial role of women in international peace-building efforts and the importance of supporting local women's organizations in conflict zones and fragile states.
Have we finally reached the tipping point when Canada will commit significant new resources to support women peace builders?
More resources are desperately needed to support women's civil society organizations and women human rights defenders. Despite recent research that proves that women's organizations and movements have been key drivers in defending human rights and promoting peace all over the world, the resources they receive worldwide are shamefully scarce and declining.
Peace-building processes are often dominated by men's voices and experiences. From 1992 to 2011, only two percent of chief mediators and nine percent of negotiators in peace processes were women. At the same time, studies show that peace processes that involve women are not only more equitable and inclusive, they are also more sustainable.
With support from the Canadian churches, KAIROS has been supporting grassroots women human rights defenders engaged in peace building in some of the most protracted conflicts around the world.
In February, I returned to the Democratic Republic of Congo to visit Chantal Bilulu of the human rights group Héritiers de la Justice. She coordinates the KAIROS-sponsored legal clinic that since 2007 has assisted hundreds of women who are survivors of rape as a weapon of war.   Chantal and her small team of women's rights advocates, lawyers and paralegals document cases of rape and sexual violence, accompany women through the judicial process and help them to reintegrate into their communities.
The work is transformative in the lives of these women, as they regain their dignity and become trained advocates for peace and human rights.  But the need is vast.  The legal clinic is always overwhelmed with more women who need assistance than it can handle.
The Canadian government has invested $18 million over five years in a UN-led project in Congo called Fighting Against Impunity and Support to Survivors of Sexual Violence.  This project helps a great deal, bringing mobile tribunals deep into rural areas.  But it won't realize its full potential without additional support to local civil society groups like Héritiers de la Justice that are able to provide women with the human rights training and legal accompaniment needed to benefit more widely from the new tribunals.  Funding grassroots efforts will yield huge dividends for the larger centrally administered project.
In January, KAIROS submitted a new project proposal to Global Affairs Canada seeking support for our partners' work on women, peace and security in Congo and four other conflict-affected states.  There has been no response yet – but we remain hopeful.  We are convinced that our approach and that of our partners will complement and ensure the success of Canada's current development programming.
This month Parliamentarians are examining how well Canada is living up to its international commitments around women, peace and security.  The Standing Committee on Foreign Affairs and International Development is conducting a study at the prompting of MP Hélène Laverdière, the lone female voice on the 10-person committee.  KAIROS is testifying this week to highlight how partnerships with civil society working at the grassroots has been a missing ingredient in the Government of Canada's approach to date.
The Committee's study is timely.  Canada's National Action Plan on Women, Peace and Security expires this year and is up for review.
If Canada is serious about developing a feminist foreign policy, our government should export something different: ambitious new funding to support grassroots women's peace building, much as they praised at the UN Security Council.  As Canada makes a bid for a seat at that table, we can distinguish ourselves by putting women at the centre of international peace-building initiatives and post-conflict development.
Ian Thomson is the Africa partnerships coordinator at KAIROS: Canadian Ecumenical Justice Initiatives.  KAIROS unites 11 national churches and religious organizations in faithful action for ecological and social justice.
Previously printed in The Hill Times, April 13, 2016. www.hilltimes.com