Women of Courage: Women, Peace and Security year two at a glance
---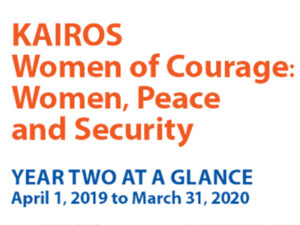 KAIROS needs to raise funds to match the government's contribution and we need your help! Every dollar you donate to these four Women of Courage: Women, Peace and Security partners will generate an additional $3 in funding from Global Affairs Canada (GAC).
---
Women's active participation in peace and security presents unique and pivotal opportunities to create gender-transformative solutions and ultimately more inclusive, gender-equal and peaceful societies.
In year 2 (2019-2020) of the five-year KAIROS Women of Courage Women, Peace and Security (WPS) program, partners demonstrated exactly this, focusing on innovative solutions to bring different perspectives and priorities into conflict-prevention, resolution processes and into peacebuilding in their countries and territories, despite the challenges due to the COVID-19 global pandemic. These partners include Organización Femenina Popular (OFP) (Colombia), Héritiers de la Justice (DRC), South Sudan Council of Churches – National Women's Programme (SSCC-NWP), and Wi'am: Palestinian Conflict Transformation Centre (West Bank)
---
---
The KAIROS WPS-Year 2 At a Glance report highlights the resolute advocacy of these partners in addressing social, cultural and political barriers that limit women's full participation in achieving and sustaining peace. Partners navigated multifaceted and grave implications of conflicts, post-conflict and humanitarian crises to respond to the needs of their communities even where humanitarian agencies had difficulty reaching due to effects of COVID-19.
This report further demonstrates that sustained and concerted support for grassroots women organizations has the capacity to achieve far-reaching reforms in conflict and post-conflicts contexts. Partners' initiatives are empowering women, not only equipping them with knowledge of their rights, but also amplifying their voices to put pressure on local and national governments to fulfill their obligations for just and peaceful societies. In addition, partners continue to advocate for the implementation and enforcement of international laws and norms such as UN Security Council Resolution 1325, the Convention on the Elimination of All Forms of Discrimination against Women (CEDAW), the Geneva Conventions and many others that provides a strong framework and mandate for advancing gender equality and empowering and protecting women.
October 2020 marks the 20th anniversary of UNSCR 1325. Two decades after its adoption, gendered gaps in peace processes are still wide and deep. KAIROS' WPS partners demonstrate the power, agency and experience of women-led peacebuilding initiatives, and speak to the urgent need for political will and concrete actions by States to address gender issues and promote peace and security.