Where to Watch COP27
---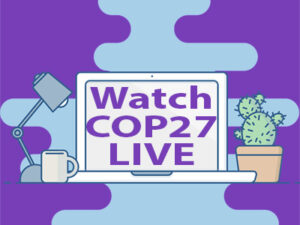 Below are a few resources for anyone wanting to view some of what is taking place in Sharm El-Sheikh, Egypt for COP27.
Live broadcasts for anyone:
Climate Hub (free registration is required): https://www.wedonthavetime.org/ (an app to download also).
The UN Climate Change Youtube channel with various daily updates, major plenaries, and other videos.: https://www.youtube.com/c/UNClimateChange
Emailed updates for anyone from Institute for Sustainable Development (IISD) Earth Negotiations Bulletin (ENB) &/or SDG Knowledge Hub (subscription required, can unsubscribe later): https://confirmsubscription.com/h/i/C7C9FE881A9F4F51
Climate Hub, from -We Don't Have Time- with live and recorded broadcasts and lots of other information. https://www.wedonthavetime.org/
COP27 side events can be viewed here: https://www.youtube.com/playlist?list=PLBcZ22cUY9RJc1scZLmb8SdZezq3IM00i
Watch the Facebook Live conversation with the delegates, which took place just before they left for Egypt. This conversation happened in three languages – English, French, and Spanish – with full interpretation. Three separate panels explored different aspects of the delegation's purpose, mission, and perspectives on climate justice.