Vancouver Banner Train send off
---
Late evening, June 14.
The rain held off almost long enough as 15 of us gathered outside the Pacific Central station in Vancouver on Coast Salish territory.  An eagle chased by an energetic crow soared past as we corralled the kids and patted Rosie the dog. We opened with prayer from Sr Cecelia Hudec of KAIROS Richmond and lit the Christ Candle brought by the Creative World Justice worshipping community.
We admired each others' banners, including two from Creative World Justice and two from Richmond.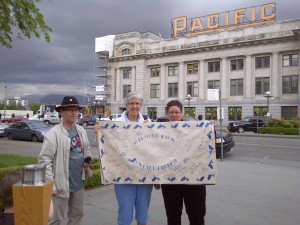 Rob Hughes of the Western Half Yearly Meeting of the Quakers described the banner they had created while in Sorrento.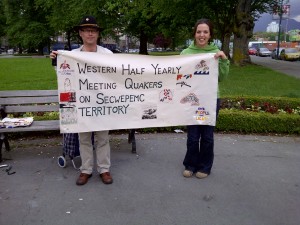 We talked about the UN Declaration and the difference it might make for Indigenous communities if it is truly lived out. Prayers were offered for Walk 4 Justice, for the struggle of the Hul'qul'emim First Nations with logging companies operating on their territories and the demonstration held outside TimberWest's AGM today, and for the continued violence endured by Indigenous people in the Philippines and Guatemala as they resist mining operations on their lands.
Then we trooped into the station with Christ Candle and wagon, and put the banners in VIA's hands and me on the train.  I was thankful to have this time with good people who I hope I will meet again.
It is moving to see the beautiful banners that are being brought to this cross Canada trek by people of all ages and backgrounds. I hope our MPs and cabinet ministers can heed the message they are bringing.
Next stop: Kamloops, BC, scheduled for 6:00AM.