The United Church at COP24
---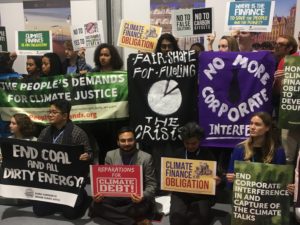 The intergovernmental panel on Climate Change's (IPCC) report, which warns that the world has 12 years to limit warming to 1.5°C or face catastrophic losses from climate change, created a sense of urgency at this year's annual Conference of the Parties (COP) for the United Nations Convention in Katowice, Poland in December. "The message was clear: we need to take immediate action to curb the
effects of climate change for the sake of our planet and all those who live on it," said Jessica Steele, a climate activist and educator from Coast Salish territory in B.C.
For Georgine Kengne, who is from Cameroon and works with women on mining justice in sub-Saharan Africa, the IPCC report confirmed what many are experiencing in the Global South. She points to Lake Chad, which borders Cameroon and has shrunk to 2,500 kms from 25,000 kms in the last 50 years. Selected by the ecumenical community to represent The United Church of Canada at the annual conference, Kengne and Steele were inspired by the leadership of Indigenous communities, particularly Indigenous women and others who are working at the grassroots level, to create real change. COP24's purpose was to develop a rulebook for the Paris Agreement, reached at COP21 in 2015. While the Katowice Climate Package was completed, it was widely criticized for lacking ambition to address the urgency of the climate crisis. "After 24 Conferences of the Parties, developing countries and civil society
are the ones pushing for higher ambition and transparency for the implementation of the agreement," said Kengne. "How many more COPs do they need to push and adopt a technical and politically more ambitious climate agenda?" she asked, clearly frustrated.
This disheartening lack of ambition from state leaders was compounded by Kuwait, Saudi Arabia, the United States, and Russia discrediting and dismissing the IPCC report. Steele said she felt "exasperated" and "disempowered" that developed countries failed to make serious commitments to support the most vulnerable while continuing to expand fossil fuel industries within their borders. Despite these setbacks, Steele and Kengne found moments of inspiration. The Local Communities and Indigenous Peoples Platform (LCIPP) was officially adopted, creating space for local communities and Indigenous
peoples to engage more meaningfully in the United Nations Framework Convention on Climate Change (UNFCCC) processes. The platform promotes the exchange of best practices and the application of traditional, Indigenous, and local knowledge in responding to climate change.
"We know that putting Indigenous voices in leadership roles when developing climate policy is vital to solving the climate crisis," said Steele. "This is a huge step forward for Indigenous rights and climate justice." The United Church of Canada is the only Canadian church with official observer status at COP.
---
Beth Lorimer is the Ecological Justice Program Coordinator at KAIROS Canada in Toronto. This article was published in Mandate, Spring 2019 issue. 
Mandate is published by the United Church of Canada.