The global gender inequality pandemic highlighted at the #CSW65
---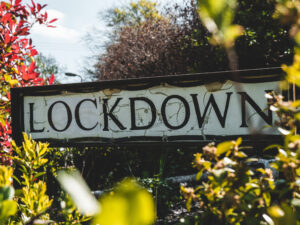 In the first of the two week of meetings that I have participated in at the CSW65 on March 15-26, 2021, similar issues have been raised by women from around the world and these have been numerous – the impacts of COVID-19 on women and the ensuing vaccine inequity, the alarming increase in gender-based violence, the exclusion of women from effective participation and decision-making in public life, shrinking civic spaces, death threats and killings of women human rights defenders.
In his opening remarks on women's full and effective participation and decision-making in public life at the virtual townhall, the UN Secretary-General, António Guterres acknowledged that the social and economic impacts of COVID-19 have been devastating for women, particularly the most vulnerable and marginalized and those in conflict situations. Gender-based violence is at an all time high, with many women trapped in homes with their abusers.
In her comments about pandemic recovery, the UN Women Executive Director, Phumzile Mlambo-Ngcuka remarked that it is alarming that 80% of COVID-19 task teams around the world are predominantly made up of men who have to solve problems that disproportionately affect women, such as violence against women, massive loss of jobs and the burden of unpaid care in households.
I also participated in thematic sessions on women in fragile and conflict-affected settings. Some panelists with lived experiences shared that in addition to gender inequality, access to health, education, and employment have been hampered. This is combined with a heightened risk of gender-based violence. Forms of violence such as early and forced marriage have been reported to be on the increase, which is a risk factor for intimate partner violence. In some regions, there is a resurgence of harmful practices such as female genital mutilation.
Women grassroots organizations and other civil society groups, especially women peacebuilders, play a vital role in addressing these issues. In the Democratic Republic of the Congo and South Sudan, for example, women's organizations have included domestic violence in their COVID-19 advocacy campaigns, including through radio talk shows in local languages about COVID-19 and gender-based violence. We hear this from KAIROS Women of Courage partners as well.
At a session on the social and economic situation of Palestinian women under Israeli occupation, the panelists reiterated that Palestinian women, particularly female-headed households, bear the brunt of COVID-19 as livelihood gaps increase. The pandemic has posed a serious threat to women's engagement in economic activities, especially in informal sectors where women constitute the majority of the work force. Abrupt travel bans and lockdowns are increasing gender livelihood gaps and food insecurity in households. Women who work as day laborers at Israeli settlements in the West Bank or those who work in Israel have to go through Israeli checkpoints, where many have reported being humiliated or denied access altogether. Others whose livelihoods depend on subsistent farming constantly get attacked by settlers, their olive trees cut down and farms set on fire.
Participants in the CSW65 are sharing decisive solutions which require concerted political will. From respective governments and the international community, there is a need for unwavering commitment to the advancement of gender equality and to addressing gender-based violence. At the national level, this requires action including: the development and implementation of National Action Plans on Women, Peace and Security; ensuring full and equal participation of women in decision making; gender mainstreaming and reforms to domestic policy regarding the status of women; as well as domestic legislation and reforms that address conflict-related violence, sexual violence, and other forms of violence against women.
At the local level, women at the grassroots are offering plausible solutions such as restructuring education at multiple levels, providing financial literacy for agricultural cooperatives, and dedicated spaces for women to access economic empowerment activities including micro-financing in rural areas. In addition, these women's groups are holding workshops and activities for women to understand legal and political frameworks, not only to ensure women's participation, but also to empower them with the tools to fight for their rights.
The first week of the CSW65 has been busy and exhilarating, but the virtual forums have also presented unfortunate challenges for meaningful participation. These include navigating the online UN system, lack of language accessibility to non-English speakers, as well as technological inequalities and time differences that have created barriers.
Follow the KAIROS Women of Courage CSW65 reflections
Thank you for your support. Every dollar you donate to Women of Courage: Women, Peace and Security partners will generate an additional $3 in funding from Global Affairs Canada (GAC). DONATE
Reflection by Jane Thirikwa, KAIROS Global Partnerships Coordinator.
---
La pandémie de l'inégalité entre les sexes mise en évidence à la CSW65
Au cours de la première des deux semaines de réunions de la CSW65 (qui s'est tenue du 15 au 26 mars 2021) auxquelles j'ai participé, des femmes du monde entier ont soulevé des questions similaires et elles ont été nombreuses – les impacts de la COVID-19 sur les femmes et l'inégalité qui en découle au niveau de la vaccination, l'augmentation alarmante de la violence fondée sur le genre, l'exclusion des femmes d'une participation réelle et de la prise de décision dans la sphère publique, le rétrécissement des espaces civiques, les menaces de mort et les meurtres de femmes défenseuses des droits de la personne.
Dans son discours d'ouverture de la réunion publique virtuelle sur la participation pleine et effective des femmes dans la sphère publique et sur leur rôle dans la prise de décision, le secrétaire général des Nations unies, António Guterres, a reconnu que les impacts sociaux et économiques de la COVID-19 ont été dévastateurs pour les femmes, en particulier pour les plus vulnérables et marginalisées d'entre elles et pour celles qui se trouvent dans des situations de conflit. La violence sexiste n'a jamais été aussi élevée, et de nombreuses femmes restent coincées chez elles avec leurs agresseurs.
Dans ses commentaires sur la réponse à la pandémie, la directrice générale d'ONU Femmes, Phumzile Mlambo-Ngcuka, a fait remarquer qu'il était alarmant de constater que 80 % des équipes de réponse à la COVID-19 dans le monde sont majoritairement composées d'hommes alors qu'elles doivent résoudre des problèmes qui touchent les femmes de manière disproportionnée, comme la violence, la perte massive d'emplois et le fardeau de tâches domestiques non rémunérées.
J'ai également participé à des séances portant sur les femmes dans des contextes fragiles ou de conflit. Parlant de leur vécu, certaines participantes ont signalé qu'en plus de l'inégalité entre les sexes, leur accès à la santé, à l'éducation et à l'emploi a été entravé. À cela s'ajoute un risque accru de violence sexiste. Les formes de violence telles que les mariages précoces et forcés sont en hausse, ce qui constitue un facteur de risque de violence entre partenaires intimes. Dans certaines régions, on assiste à une résurgence de pratiques néfastes comme les mutilations génitales féminines.
Les organisations féminines locales et d'autres groupes de la société civile, en particulier les femmes artisanes de la paix, jouent un rôle essentiel dans la résolution de ces problèmes. En République démocratique du Congo et au Soudan du Sud, par exemple, les organisations de femmes ont inclus la violence domestique dans leurs campagnes de plaidoyer relatives à la COVID-19, notamment par le biais d'émissions de radio dans les langues locales sur la COVID-19 et la violence sexiste. C'est ce que nous disent également les partenaires du programme Femmes de courage de KAIROS.
Lors d'une séance sur la situation sociale et économique des femmes palestiniennes sous l'occupation israélienne, les participantes ont réaffirmé que les femmes palestiniennes, en particulier celles qui sont tête de famille, sont les premières victimes de la COVID-19, car la pandémie exacerbe l'inégalité de moyens de subsistance. La pandémie menace considérablement la participation des femmes dans les activités économiques, en particulier dans les secteurs informels où les femmes constituent la majorité de la main-d'œuvre. Les interdictions soudaines de voyager et les mesures de confinement augmentent le manque de moyens de subsistance des femmes et l'insécurité alimentaire des ménages. Les femmes qui travaillent en Israël ou dans les colonies israéliennes en Cisjordanie comme journalières doivent passer par les points de contrôle israéliens, où, d'après de nombreux témoignages, elles sont humiliées ou se voient refuser l'entrée. D'autres, dont les moyens de subsistance dépendent de l'agriculture de subsistance, sont constamment attaquées par les colons, qui coupent leurs oliviers et mettent le feu à leurs fermes.
Les participantes à la CSW65 ont suggéré des solutions décisives qui nécessitent une volonté politique concertée. Les États et la communauté internationale doivent s'engager de manière indéfectible à faire avancer l'égalité des sexes et à lutter contre la violence sexiste. Au niveau national, cela nécessite des actions comme l'élaboration et la mise en œuvre de plans d'action nationaux pour les femmes, la paix et la sécurité; la garantie d'une participation pleine et égale des femmes à la prise de décision; la généralisation de l'égalité entre les sexes et des réformes des politiques nationales relatives à la condition de la femme, ainsi que des lois et des réformes qui s'attaquent à la violence liée aux conflits, à la violence sexuelle et aux autres formes de violence contre les femmes.
Au niveau local, les femmes proposent des solutions telles que la restructuration de l'enseignement à plusieurs niveaux, l'offre de formations financières aux coopératives agricoles et l'aménagement d'espaces réservés aux femmes pour qu'elles puissent accéder à des activités d'autonomisation économique, y compris au microfinancement dans les zones rurales. En outre, ces groupes organisent des ateliers et des activités pour aider les femmes à comprendre les cadres juridiques et politiques, non seulement pour garantir leur participation, mais aussi pour leur donner les outils nécessaires pour défendre leurs droits.
La première semaine de la CSW65 a été chargée et exaltante, mais les forums virtuels ont également présenté des défis regrettables à une participation significative. Il s'agit notamment des difficultés de navigation dans le système en ligne des Nations unies, du manque d'accessibilité pour les locuteurs non anglophones, ainsi que des inégalités technologiques et du décalage horaire.
Suivez les réflexions de KAIROS Femmes de courage CSW65 ici : https://www.kairoscanada.org/tag/csw65
Une réflexion de Jane Thirikwa, coordonnatrice aux partenariats mondiaux de KAIROS.
---
La pandemia global de desigualdad de género destacada en la CSW65
En la primera de las dos semanas de reuniones en el marco de la CSW65 del 15 al 26 de marzo de 2021, mujeres de todo el mundo han planteado cuestiones similares y han sido numerosas: los impactos de COVID-19 en mujeres y la consecuente inequidad en las vacunas, el alarmante aumento de la violencia de género, la exclusión de las mujeres en la participación efectiva y la toma de decisiones en la vida pública, la reducción de los espacios cívicos, las amenazas de muerte y los asesinatos de defensoras de derechos humanos.
En su discurso de apertura en el town hall virtual sobre la participación plena y efectiva de las mujeres y la toma de decisiones en la vida pública, el Secretario General de la ONU, António Guterres reconoció que los impactos sociales y económicos de COVID-19 han sido devastadores para las mujeres, particularmente las más vulnerables y marginadas y aquellas en situaciones de conflicto. La violencia de género está en su punto más alto, con muchas mujeres atrapadas en hogares con sus abusadores.
En sus comentarios sobre la recuperación de la pandemia, la directora ejecutiva de ONU Mujeres, Phumzile Mlambo-Ngcuka, señaló que es alarmante que el 80% de los equipos de trabajo de COVID-19 en todo el mundo están compuestos principalmente por hombres que están a cargo de resolver problemas que afectan de manera desproporcionada a las mujeres, como son la violencia contra la mujer, la pérdida masiva de puestos de trabajo y la carga del cuidado no remunerado en los hogares.
También participé en sesiones temáticas sobre mujeres en entornos frágiles y zonas afectadas por conflictos. Algunas panelistas con experiencias vividas compartieron que, además de la desigualdad de género, se ha obstaculizado el acceso a la salud, la educación y el empleo. Esto se conjunta con un mayor riesgo de violencia de género. Se ha revelado un aumento de formas de violencia como el matrimonio precoz y forzado, que es un factor de riesgo de violencia por parte de la pareja íntima. En algunas regiones, hay un resurgimiento de prácticas perjudiciales como la mutilación genital femenina.
Las organizaciones de base de mujeres y otros grupos de la sociedad civil, especialmente las mujeres constructoras de la paz, desempeñan un papel fundamental al abordar estos problemas. En la República Democrática del Congo y Sudán del Sur, por ejemplo, las organizaciones de mujeres han incluido la violencia doméstica en sus campañas de promoción de COVID-19, incluso a través de programas de radio en los idiomas locales sobre COVID-19 y la violencia de género. También escuchamos esto de parte de las aliadas y los aliados de KAIROS Mujeres de Coraje.
En una sesión sobre la situación social y económica de las mujeres palestinas que viven bajo ocupación israelí, las panelistas reiteraron que las mujeres palestinas, en particular los hogares encabezados por mujeres son las más afectadas por COVID-19 a medida que aumentan las brechas en los medios de vida. La pandemia representa una grave amenaza para la participación de las mujeres en las actividades económicas, especialmente en los sectores informales donde las mujeres constituyen la mayoría de la fuerza laboral. Las prohibiciones abruptas de viaje y los confinamientos están aumentando las brechas de género en los medios de vida y la inseguridad alimentaria en los hogares. Las mujeres que trabajan como jornaleras en asentamientos israelíes en la Ribera Occidental o las que trabajan en Israel tienen que pasar por puestos de control de seguridad israelíes, donde muchas han sido humilladas, o negadas por completo el acceso. Otras mujeres, cuyo sustento depende de la agricultura de subsistencia, son constantemente atacadas por los colonos, sus olivos talados y sus granjas incendiadas.
Las participantes de la CSW65 comparten soluciones decisivas que requieren una voluntad política concertada. Se requiere un compromiso inquebrantable para avanzar la igualdad de género y abordar la violencia de género por parte de los respectivos gobiernos y la comunidad internacional. A nivel nacional, esto requiere acciones que incluyen: el desarrollo y la implementación de Planes de Acción Nacionales sobre la Mujer, Paz y Seguridad; asegurar la participación plena e igualitaria de las mujeres en la toma de decisiones; la incorporación de la perspectiva de género y reformas a la política nacional sobre la condición de la mujer; así como la legislación nacional y las reformas que abordan la violencia relacionada con los conflictos, la violencia sexual y otras formas de violencia contra la mujer.
A nivel local, las mujeres en las bases están ofreciendo soluciones verosímiles, como reestructurar la educación en múltiples niveles, brindar educación financiera para las cooperativas agrícolas, y espacios dedicados para que las mujeres tengan acceso a actividades de empoderamiento económico, incluido el microfinanciamiento en áreas rurales. Además, estos grupos de mujeres están realizando talleres y actividades para que las mujeres comprendan los marcos legales y políticos, no solo para garantizar la participación de las mujeres, sino también para empoderarlas y dotarlas con las herramientas para luchar por sus derechos.
La primera semana de la CSW65 ha sido muy dinámica y estimulante, pero los foros virtuales también han presentado desafíos desafortunados para una participación significativa. Estos incluyen navegar por el sistema de la ONU en línea, la falta de acceso para las que no hablan inglés, así como las desigualdades tecnológicas y las diferencias de tiempo que han creado barreras.
Siga las reflexiones de KAIROS Mujeres de Coraje CSW65 aquí: https://www.kairoscanada.org/tag/csw65
Reflexión de Jane Thirikwa; Coordinadora de Alianzas Globales de KAIROS.