Testimonio and Storytelling: Canadian extractivism in territories affected by genocide
---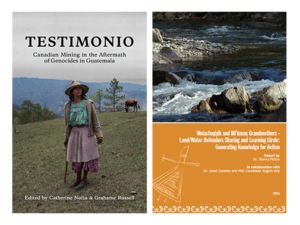 Join KAIROS, Atlantic Regional Solidarity Network (ARSN), the Department of Human Rights at St. Thomas University, MiningWatch Canada, Atlantic Human Rights Centre, Solidarité Fredericton, NB Media Coop, and Maritimes-Guatemala Breaking the Silence Solidarity Network on Monday, November 8, 2021 at 6:00pm EST for "Testimonio and Storytelling: Canadian extractivism in territories affected by genocide" a virtual event on the recent publication of "Testimonio: Canadian mining in the aftermath of genocides in Guatemala" and "Wolastoqiyik and Mi'kmaq Grandmothers-Land/Water Defenders Sharing and Learning Circle: Generating Knowledge for Action."
Learn more about struggles for self-determination after genocide, and how Canadian colonialism continues through mining in Guatemala. We will also hear how grassroots Indigenous organizers from Wabanaki territories are organizing to stop extractivism.
In the book, "Testimonio: Canadian mining in the aftermath of genocides in Guatemala," editors Catherine Nolin and Grahame Russell draw on over thirty years of community-based research and direct community support work in Guatemala to expose the ruthless state machinery that benefits the Canadian mining industry and is sanctioned and supported every step of the way by the Canadian government.
This collection calls on Canadians to hold our government and companies fully to account for their role in enabling and profiting from violence in Guatemala. The text stands apart in featuring a series of unflinching testimonios (testimonies) authored by Indigenous community leaders in Guatemala, as well as wide-ranging contributions from investigative journalists, scholars, lawyers, activists, and documentarians on the ground.
In "Wolastoqiyik and Mi'kmaq Grandmothers-Land/Water Defenders Sharing and Learning Circle: Generating Knowledge for Action," Sherry Pictou, Janet Conway, and Angela Day center Indigenous storytelling to highlight how there is a pattern of collusion between governments and resource companies to advance projects that undermine Treaty and Indigenous Inherent Rights through various means of coercion.
This event will focus on the testimonies, stories, and work of Indigenous grassroots organizers, lawyers and academics and their perceptions and experiences of Canadian extractivism in their territories. We will also hear about Canada's role and ways to respond.
Confirmed speakers include:
Isabel Solis, Maya K'iche lawyer and human rights defender, genocide survivor who has accompanied mining struggles throughout Guatemala.
Aniseto Lopez, Maya Mam community organizer from San Miguel Ixtahuacan, Guatemala. Part of a group that petitioned the Inter American Commission on Human Rights to stop operations at the Marlin Mine and urged Canadian churches and pension holders to divest Goldcorp. Aniseto's testimony appears in the book.
Sherry Pictou, PhD, Mi'kmaw from L'sɨtkuk, Assistant Professor of Law and Management; Canada Research Chair in Indigenous Governance (Tier 2), Dalhousie University. Professor Pictou is the lead author of "Wolastoqiyik and Mi'kmaq Grandmothers-Land/Water Defenders Sharing and Learning Circle: Generating Knowledge for Action."
Catherin Nolin, PhD Assistant Professor of Geography at the University of Northern British Columbia, editor of "Testimonio".
For more on Canadian extractivism, its gendered impacts, and land defense struggles, please visit Mother Earth and Resource Extraction: Women Defending Land and Water, or MERE Hub, a digital hub created with and for women land defenders.